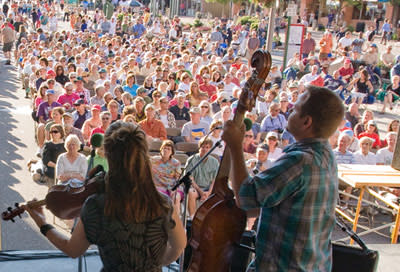 If you ever visit Greater Lansing or read this blog much at all you already know that this area is absolutely packed with great seasonal events. I often weigh in on which ones are my favorite of the season and share memories of enjoying them with my family, spouse and kids over the years. Now, even though there is so much to like around here when it comes to festivals and events I have to say that maybe my favorite festival the whole year long is coming up this weekend in East Lansing.
That of course is the Great Lakes Folk Festival, set for August 10-12, 2012.
I'm a busy guy and I don't have a ton of free time, but when I get it I absolutely love live music and this great event gives a sampling of amazing music of all kinds from around this beautiful world of ours. There is so much musical variety, in fact, I'll even admit I don't like it all - but I can appreciate it and dig it when I see people getting into it. If I hear something I don't like, no biggie. That just means its time for a drink at El Azteco, or maybe a game of pool down at Pinball Pete's, or justhead off to another area of the festival with my group. Then, you check the schedule for the other stages and see what's next! At the Great Lakes Folk Fest I always get excited to be treated to some of my very favorite music to hear live, which next to Dave Matthews Band is really good Bluegrass and especially Irish/Celtic music of any kind. I guess you could say its in my (Irish) blood. East Lansing is a fantastic host for this event too, as the campus itself simply brims over with culture and the desire to celebrate is always just under the surface of everyday events.
Great weather, awesome food, uplifting beverages and thrilling music from around the world! Who could ask for more!? Apparently YOU CAN! Yep. Folk Fest isn't just music, grub and brew (also known as the three horsemen of fun) itshares a ton of other activities that celebrate classic North American folk traditions. This of course includes art, storytelling, crafts, a marketplace, dance and lots of special activities for kids. Me and my family come to his event every year, without fail and we ALWAYS have a blast. Now THAT'S a Folk Tradition I'm glad to say I'm a part of!
Looking for the most fun you'll have all summer? Come check out the Great Lakes Folk Fest in East Lansing this weekend. Go HERE first to schedule your weekend. See you at Folk Fest 2012! AUG. 10-12, 2012! The Michigan State University Museum presents the Great Lakes Folk Festival in downtown East Lansing, Aug. 10-12 -- Music, dance and culture from across America and around the world. The award-winning Great Lakes Folk Festival, produced by the MSU Museum's Michigan Traditional Arts Program, is a celebration of culture, tradition and community. The Michigan State University Museum works year-round to develop this festival program that reflects the immense variety and vitality of art, skill, knowledge, and wisdom of our cultural heritage for the public. GLFF offers a one-of-a-kind mix of music and dance stages, demonstrations of traditional arts and storytelling, authentic ethnic food, an arts marketplace, and many special activities for kids and their companions.