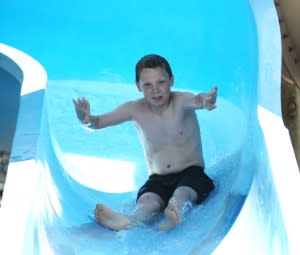 When the hazy, hot and humid weather hits and the kids are bored it may just be time to pack up the family and find a fun getaway. Want to skip the up north traffic headache? Want something simple and inexpensive? Hop in the car and head to Lansing. A day or weekend of swimming, splashing around and playing in the water makes memories to last a lifetime.
City of Lansing Municipal Pools You do not need to be a city resident to enjoy Lansings pools. Admission is free. Just fill out the required in-case-of-emergency form, show your i.d. and you are good for the season. Both city pools are open daily 12-4 and 5-8 p.m. Moores Park Pool 600 Moores River Dr., Lansing Hunter Park Pool and Splash Pad 1400 E. Kalamazoo Ave., Lansing
Hawk Island Park 1601 E. Cavanaugh Rd., Lansing. Hawk Island offers a state-of-the-art Splash Pad, rowboat and pedal boat rental, a supervised swimming beach, picnicking, a community-built playground, sand volleyball, horseshoes, paved accessible walkways (1.5 miles) that connect to trails through Scott Woods Park, fishing docks and a beach house/concession stand.
East Lansing Family Aquatic Center 6400 Abbot Rd., East Lansing Heres a fun and exciting family water park with a 200-foot tube slide, 120-foot body slide, 15-foot drop slide, diving board, zero-depth leisure pool with youth frog slide and interactive water play structures, wet/dry sand play area, sunbathing deck, changing rooms, concession and picnic area. And dont miss the 3,000 square foot splash pad.
Lake Lansing Park South 1621 Pike St., Haslett Once a popular amusement park, Lake Lansing Park-South is located on Lake Lansing, the largest body of water within 30 miles of Lansing. The 30-acre site includes a sandy beach bordered by four acres of lush green grass. The park offers a supervised swimming beach, snack bar/bathhouse, community band shell, picnicking, volleyball, a community-built playground, a tricycle track, fishing, and pedal and rowboat rental.
Book a Hotel and Stay Overnight Nothing says getting away has to be super far or super expensive. A weekend at a Lansing area hotel with a pool can be the perfect solution to cool off and get away. Then just add in some family friendly activities like a trip to Potter Park Zoo or Impression 5 Science Center and your mini-vacation is complete.
For even more things to see and do while you're visiting the Lansing area, log on to www.lansing.org.