As a single mom, raising two dedicated gymnasts in this crazy, constantly busy life, my whole life is about finding balance. Personally, professionally and even trying to channel my support and faith in my children to find balance, whether in their schoolwork, or on the floor competing in national gymnastics competitions.One thing I will not claim, is that I have all the answers on how to raise kids to be great and develop into awesome little humans that go on and just rock it out as thriving, amazing adults. What I do know, is that the environment I've tried to foster, our home life and our collective life journey that I have laid out for my kids, is one that has worked well for us. We most certainly have our ups and downs and challenges, but I think the recipe for success is that we've found a way to tackle the highs and lows together.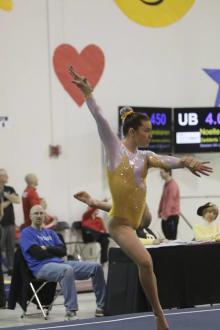 Growing up as a gymnast myself, it was a natural decision to put my first born and daughter, Karly, in a gymnastics class as a toddler. Did you know you can put a child in gymnastics as early as 18 months?! And I know what you are thinking. Seriously? What in the world can a baby do in a gymnastics class at 18 months old? Believe it or not, A LOT! They crawl through the tunnels, climb up that block, forward roll across the mat and walk their little 2 ½ foot self-down that 4-inch wide balance beam. And when they make that big jump off of the end of the balance beam and land on their feet, their little arms extend over their head as high as they can go and out comes a big yell of "tah-dah"! with the biggest smile on their face. Karly did so well with it that when he was old enough it was my son Cooper's turn, and its become a passion for him as well. Gymnastics can serve to be a child's first introduction to success…accomplishment…achievement. This lays out the groundwork and desire to want to do it again. To do it more. It is achievement they have found on their own, but with support. When this becomes a practiced approach to life, you can find a rhythm and success. Not always perfection, but relationships working together like gears.
My kids started on a road of self-discipline and hard work early in life thanks to gymnastics and now it serves them in other areas of their lives. There isn't time to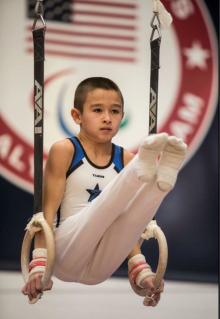 be anything but disciplined, focused, efficient and effective. Structure creates expectations. Expectations create structure. I say this with no intent on bragging. I've rarely asked either of my kids if they have homework to do. They know what they need to do and they do it.
What about me, you might ask? How do I balance being a mom to these busy kids and juggling a social life and my career and lots of personal commitments? A lot like my kids do! Honestly, I just don't know any different. Am I ever scared to slow down because I don't know if I'll get back up to speed again? Yes, but because of the tight schedule of the day to day week, I have learned that I need to get done, what needs to be done because there isn't going to be another time to make it happen. Of course, that can be exhausting and drain me, but that's what family and friends are for, to fill that bucket back up. I try my best to bring this mindset to my role as Faith-Based Sales Manager at the Greater Lansing Convention and Visitors Bureau every day. No matter what group I'm working with, or where I am promoting Greater Lansing as a meeting and event destination, I bring those tools of tenacity, dedication and teamwork. I also can thrive in the busy because I know that busy is good and I love the work I'm doing.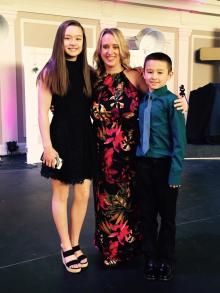 The other huge contributor to finding balance professionally and personally is I do my best to consciously practice gratitude. Exhibiting gratefulness for this blessed life we live, leads to being more happy, healthy and optimistic about life. I try to remember to soak in the moment, live in the present and find those silver linings. Working with groups to bring faith-based events to Greater Lansing is a positive and uplifting role and I'm constantly blessed by working with people of strong faith. Helping them put events together in my hometown is a feel good win-win all around. My children and I work to keep God front and center in our lives and I strive to teach them to respect their God given gifts and realize that it is a gift that they are not entitled to or "deserve" yet one they have been blessed to receive. THAT right there is the most fulfilling experience a mom could ever have.