Fenner Nature Centers 42nd Annual Apple Butter Festival!
OCTOBER 10th & 11th from 11am-5pm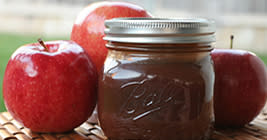 Its time to celebrate fall! That means it's also time for the many wonderful sights, sounds, smells, and tastes that will be on display at one of my favorite festivals in Michigan, Fenner Nature Center's Apple Butter Festival. A chill in the air, the crunch of leaves under your feet, the smoky smell of a campfire combined with the sweetness of a ripe apple Its a fall scene for the ages, and you dont want to miss it. You get all the fun of Fenner, like the trails and learning exhibits inside, but you and your family can also learn about apples and their historical significance. This delicious fruit was once a big part of pioneer-era America. The opportunity to learn while you eat makes this event a pretty amazing festival in Michigan.
Fenner invites you to travel back in time to the days of the pioneers. You can help stir the apple butter, cooked the old-fashioned way in a copper kettle over the fire, or try your hand at the cider press. Area Celebrity Stirrers will be on hand to help stir the apple butter as well! There will also be a pumpkin patch and pumpkin-carving contest. The Fenner Explore Store will be open to help people find unique nature-related gifts. Yes, the beauty of nature in autumn, coupled with heritage artisans, local musicians, and savory food is sure to make a memorable festival in Michigan! This event is free to the public and visitors are encouraged to ride their bikes to the celebration. Fenner Nature Center is a non-profit organization that offers a lot to the community, so help them out and pay the few bucks they ask for parking if you can.
So, where will you find fall? Will you find it raking leaves, or when you groan and turn on the furnace for the first chilly night of the season? Fall is a time of beauty, so find it at Fenner, a place of beauty with a family fun setting. I know that's where Ill find it: in the woods at Fenner Nature Center. Join me.