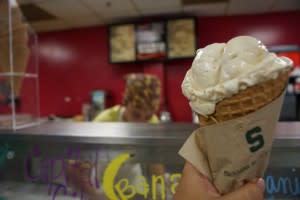 Whats better than an ice cream treat on a hot day? Heck, whats better than an ice cream treat on any random day?? Not one single (or double) thing.
If you need to get some cold, icy goodness, you dont have to go far to find it in the Lansing area. Love to choose your favorite flavor and then get the mix-ins? Head to Coldstone Creamery. Like the Sundae options? Try Spartys Sundae. In love with MSU Dairy Store ice cream? Get to the source at South Anthony Hall on Bogue St. or cross campus and hit up the Student Union. And now new to downtown Lansing is Capitol City Scoop, proudly serving Dairy Store ice cream.
I guarantee it will make your day a winner. Get it.
Ice Cream Stop By Shel Silverstein
The circus train made an ice cream stop
At the fifty-two flavor ice cream stand.
The animals all got off the train
And walked right up to the ice cream man.
Ill take Vanilla, yelled the gorilla.
Ill take Chocolate, shouted the ocelot.
Ill take Strawberry, chirped the canary.
Rocky Road, croaked the toad
Lemon and Lime, growled the lion.
Said the ice cream man, Til I see a dime,
Youll get no ice cream of mine.
Then the animals snarled and screeched and growled
And whinnied and whimpered and hooted and howled
And gobbled up the whole ice cream stand,
All fifty-two flavors
(fifty-three with the ice cream man)