If the words rootinest, tootinest, rip-roarin, shootinest, wild and woolly bring to mind a down-home good time, then you might just be right. Charlotte Frontier Days are here and theres a mess of good stuff happening. You wont want to miss the big parade, saloon, car show, the vendor area with arts and crafts and even a dog show. Heck, this festival sounds busier than a one-armed paper hanger. So head on out to Charlotte early on Saturday for the parade. It starts at 10:30 a.m. but youll want to get your spots a little bit ahead of time. The parade runs down both Lawrence and Cochran Avenue.
If youre looking to wet your whistle, you better get on over to the Frontier Days Saloon. In all honesty, I would call it a beer tent, but stay with me and the theme on this. There will be drink specials, western wear contests, dancing (Ill bet you dollars to donuts youll see some line dancing,) live bands and more. That runs Wednesday through Saturday evenings.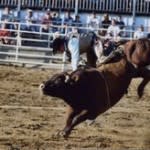 Saturday you can also participate or cheer on the 5k run/family walk, check out the Living History Camp on the south end of Bennett Park when the parade ends until 6 p.m., head to Davis Auto Mart on Lansing Road for the charity car show. I heard tell that the Moose Lodge will be selling some delicious pulled pork there and therell be music, prize drawings and great fun.
The rodeo literally kicks off and runs 4-8:30 Friday and Saturday and 2 p.m. Sunday. Find bareback bronc riding, steer wrestling, saddle bronc riding, barrel racing, team tie-down roping, and the sports glamour event bull riding. You can purchase tickets to this in advance. In fact, its recommended since they sold out the show last year.
Charlotte Frontier Days has been the source for family fun and great times for over 40 years now. Mosey on over and enjoy yourselves. That is all, pardner.
For more information on this festival and other events coming up soon in the Lansing area, check out our Greater Lansing events calendar.