Usher in the fall season with Greater Lansing's breweries, wineries and distilleries. Discover 15+ options for patios to enjoy the vibrant views and fall flavored spirits and brews. You are sure to make the most of an autumn day in Greater Lansing, cheers!
BREWERIES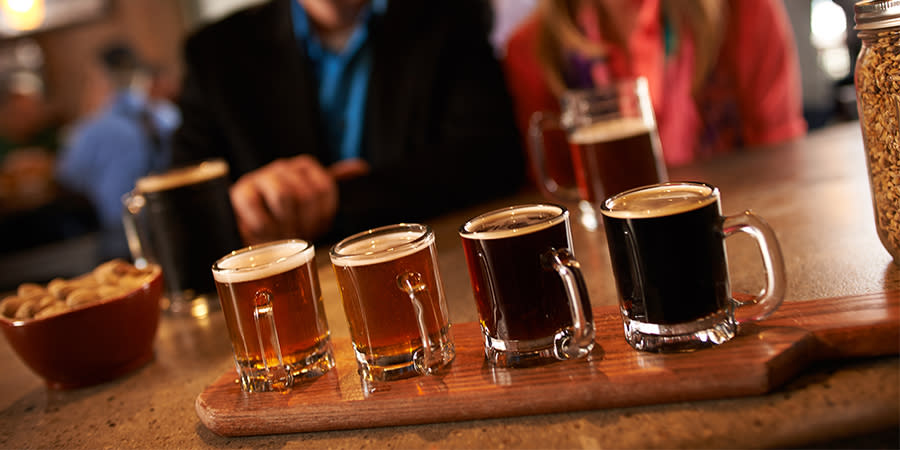 Soak up the fall ambience in BAD Brewing Company's beer garden (fire pit included!). Located in Mason, BAD is a hidden gem microbrewery, serving up to 24 rotating beers and ciders year-round. Here you will find many seasonal brews including Lucy's Pumpkin Spice, a fruit and spice beer that carries a beautiful dark amber color with just the right amount of pumpkin and spice. (pictured above)
BrickHaven has made its home in a renovated church and features a plethora of seasonal brews, including beer, wine, cider, mead, small batch sodas and a full menu. This is a perfect spot to grab a drink and a bite to eat while enjoying the vibrant colors in downtown Grand Ledge. While you're in the area make sure to visit The Ledges in Fitzgerald Park, a definite must see.
For some warm, toasty fall vibes sip on Dimes Brewhouse's Octoberfest. This malty brew captures roasted caramel and bread notes and is sure to warm a fall chill. Dimes also makes their own cider, wine, kombucha, sparkling tea, and soda. All of which you can enjoy on their patio right in downtown Dimondale.
EagleMonk also offers craft wine, soda and pizza made on premises. For some autumn views make your way to their beer garden which offers plenty of space to spread out and enjoy the fall colors.
Set in a converted industrial warehouse, Ellison Brewery and Spirits is microbrewery, micro-distiller and winery located between East Lansing and Okemos. Featuring award winning seasonal brews, artisan cocktails and wines. Their large patio is set up to warm you through the chilly fall season.
Fall is a favorite season for Jolly Pumpkin—their brewery theme and name says it all! Packed with a multitude of fall flavored brews and also has a full menu to satisfy all types of eaters, so you are sure to enjoy a relaxing autumn afternoon here.
Right in the heart of downtown Lansing sits Lansing's original brewery—the Lansing Brewing Company. Featuring artisan wine, cider, seasonal cocktails and 12 beers on tap, including their Oktoberfest beer which utilizes three different Germany style malts to give it a very clean bread-like malt flavor and easy drinkability. Their large patio space is a great gathering place for friends and family and includes are very cozy firepit.
Along the banks of the Looking Glass river you will find a repurposed historic church now amply named the Looking Glass Brewing Company. This brewery features hand-crafted beers, wines, meads, seltzer, hard ciders and a full menu. For seasonal flavors try their Another Octoberfest beer—a smooth, lightly hopped, malty flavor beer with drinkability. Their patio is usually decked out with pumpkins and fall décor and is sure to provide a picturesque autumn backdrop.
Using locally sourced goods and food and a vast variety of Michigan's favorite beer, cider and mead—5 of which are their own brand—there is always something new to try at Midtown brewing Company. Seasonal beers and ciders, like Uncle John's Apple/Apricot Hard Cider, are sure to satisfy and their urban patio adds to that as well.
Old Nation Brewing Company sits on the M-43 highway in the small town of Williamston and boosts a team of brewers who really hone the true craft of craft beer. It is home to the popular M-43 N.E. IPA and Boss Tweed Imperial IPA, both named by Beer Advocate as two of the top-rated beers in Michigan. For a seasonal brew try The Night Farmer, a classic porter with notes of coffee, dark chocolate and caramel.
Situated in a repurposed warehouse, Ozone's Brewhouse is a father-son collaboration that brings liquid art to the Old Town neighborhood in Lansing. The Brewhouse features twelve taps, six of which rotate in new beers every two weeks. Take a seat in their outdoor beer garden and sip on their house made Pumptrickin ale, a fall classic brewed with real pumpkin and spiced with nutmeg, cinnamon, clove and brown sugar.
---
WINERIES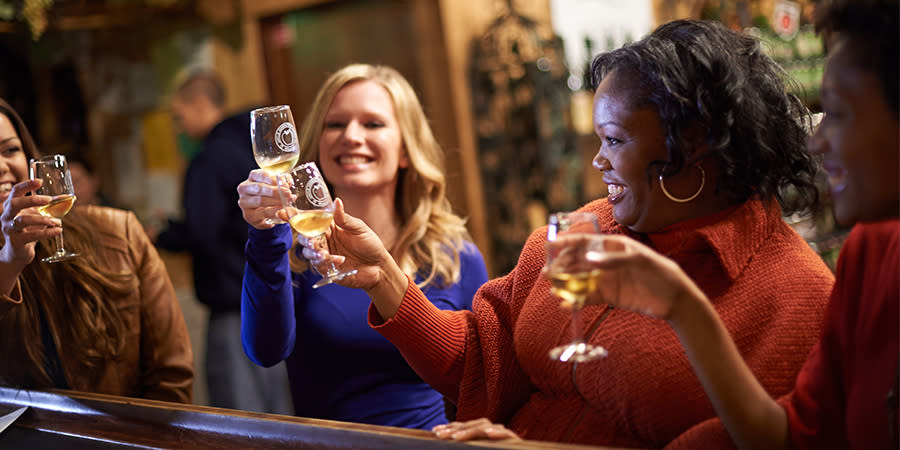 Uncle John's Cider Mill is a must for the fall season. Complete with an apple orchard, pumpkin patch, corn maze and plenty of fall things to do. They also produced 10+ award winning hard ciders and fruit wines that you can sample. Find your favorite one and sit on the hillside overlooking the orchard and fall foliage. (pictured above)
Enjoy the country atmosphere while tasting the many specialty wines produced and bottled onsite at Burgdorf's Winery in Haslett. This boutique winery offers the perfect setting for a fall day amongst the colorful views.
---
DISTILLERIES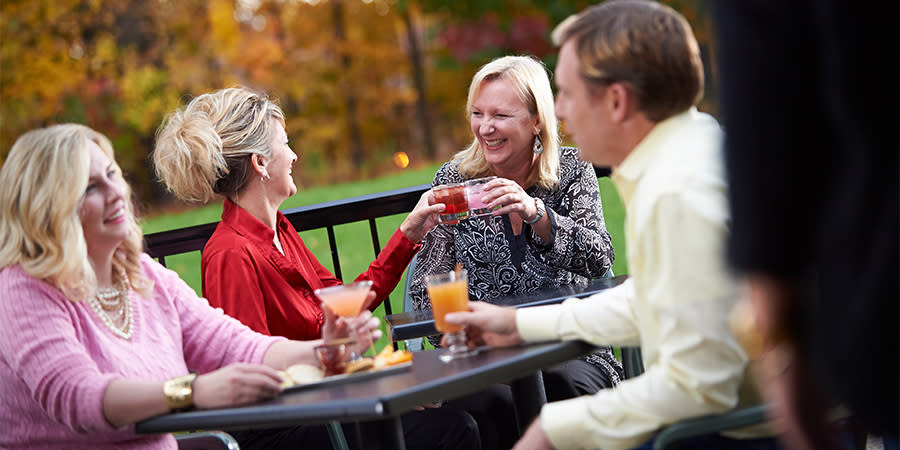 Red Cedar Spirits gets rave reviews for its vodka, gin, whiskey, bourbon and brandy. Try their seasonal cocktails and complete them with a view of all the colors of fall—their patio is the perfect setting for an autumn evening. (pictured above)
Lansing's first distillery. Ever. American Fifth Spirits turns locally sourced ingredients into whiskey, gin, vodka, brandy & liqueurs. Their ever-changing cocktail menu always has an inventive seasonal drink to appease and their urban patio is sure to delight.
REO Town is thriving community in Lansing where people meet to create, experience, and share art, food, and culture. And right in the middle of it sits Sleepwalker, a microbrewery featuring craft beer, wine and cider produced on-site as well as fresh sandwiches and pizza featuring local ingredients. Grab a cider and sit on their urban patio and enjoy the artistic charm of REO Town Lansing.
Photography: Tom Genarra and our #lovelansing community—a special thanks for their awesome imagery and social media posts.