Close your eyes and picture this.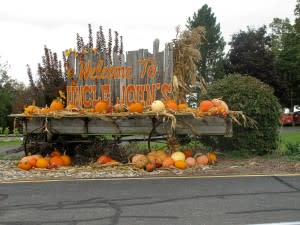 Picture your happy family out strolling at a cider mill on a cool crisp day when the leaves are turning vibrant shades of crimson and orange. The sun is shining and warming your back. The aroma of freshly made donuts is wafting in the gentle breeze. The taste of falls first sip of apple cider is just moments away. The kids skip happily at your side. Theyre holding hands and running ahead and then coming faithfully back. They cant wait to pick out their Halloween pumpkins! Youve got on your new corduroy pants and as you walk you hear them swish, swish, swish with each step. Youve just gotten a promotion. The new car is on order and your in-laws have left for their winter home somewhere south. Life is good.
Screeeeeeeech. Okay, you can wake up now. Does that sound like a ridiculous fantasy? Do you want to make a happy family outing happen? Then head to some pumpkin patches and cider mills and let the kids play. Both Uncle Johns Cider Mill in St. Johns and The Country Mill in Charlotte offer so many options that you can keep pretty much everyone in the whole family happy. With trains to ride, inflatables to bounce on and space to run, the kids can have a blast. Plus, if they want, they can pick their pumpkin from the field, which is always fun and a nice way to teach them that pumpkins do not grow in the giant cardboard box at the grocery store. The grown-ups have the option of perusing gift shops filled with fall dcor as well as the options to buy assorted baked goods, pies, cider, donuts and a ton of apple and pumpkin products. Yes, I said a ton. Add to that, the option of some wine and hard cider tasting and the day gets better and better. Sorry, but I cant help you out about the promotion and the new car. But heres a tip. A happy family is priceless. Go out and make some memories in Greater Lansing.