Late Summer/Early Fall means FUN in Greater Lansing Michigan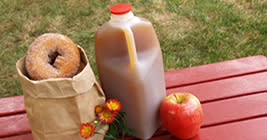 Well, it was a good run but with the kids officially back in school and Labor Day and the last of August behind us, we are beginning to see Summer 2013 draw to a close. But listen, before you pull out your snow blower and winter parka, take some time to enjoy what is, frankly, my favorite time of year. Late summer and early Autumn in Greater Lansing, Michigan is an awesome time, with a whole bunch of unique opportunities at your fingertips.
One of the things that you simply have to do within the next few weeks is make a trip up to the Northern part of Greater Lansing in St. Johns, Michigan and pay a visit to Uncle John's Cider Mill. Sunshine combined with cool and refreshing autumn breezes will make you eager to get outdoors and into the spirit of early Fall. Bring a loved one or the entire family and spend the day! Everything from U-Pick apples to great baked goods, crafts, activities and more offers a ton of fun, and something my family looks forward to every single year. Did I forget to mention the Cider?! Wow. Get ready for the freshest and most delicious tasting apple cider you've ever tasted. Since its made right there on sight you can literally watch it be make and put into the jugs that you can then buy for a very reasonable price. Uncle John's also offers a few different wines and hard ciders for the distinguished adult palette to explore. Something new for me this year will be trying hard cider made from pears. I think that sounds fantastic. While they've offered awesome doughnuts and cider and pies and stuff at Uncle Johns for what seems like forever, they've done a great job in more recent years of building up the available on-site activities for kids and restless childish adults like me. After you've picked apples and stuffed yourself on good food, go into the corn maze, take a train or wagon ride or try out the jumping pillow and gemstone mining! It's a blast that people of every age will enjoy.
Yes, summer is winding down, but that doesn't mean you have to stop having fun. In fact, in many ways, the best is yet to come! I love Uncle John's Cider Mill and so should you. Here are a few details on some special events going on THIS WEEKEND! For a complete list of attractions perfect for fall, visit our Fall Family Fun page!
Saturday, September 7, 2013 GREAT LAKES CIDER & PERRY GUILD HARD CIDER TASTING Tasting Event 2-7 pm Live Music: Jagwire Country band, 1-5 pm & Taylor Taylor 5-7 The Hard Cider & Perry Tasting will showcase Hard Ciders & Perrys (made from pears) from all over the Midwest. Additional event details will follow. Also, from 11-6 pm: Corn Maze, Train Rides, Wagon Rides, Make your own Stuffed Animal, Jumping Pillow & Gemstone Mining. Wine Tasting from 11-7.
Sunday, September 8, 2013 A TASTE OF UNCLE JOHN'S, 1-5 pm Fading World Band, 1-5 pm Come and sample our baked goods, cider, wine, fudge, preserves and more! Also, from 11-6 pm: Corn Maze, Train Rides, Wagon Rides, Make your own Stuffed Animal, Jumping Pillow & Gemstone Mining. Wine Tasting from 12-7.
8614 North US 127 St Johns MI 48879 989-224-3686 cider@ujcidermill.com