I personally feel like Fall gets a bad rap just because the next season to come after carries with it the sub-zero temps of winter. How is that fair? That's like getting kicked out of line because the guy behind you is acting like a jerk. Just not fair. Fall has so many awesome things going for it, lets just enjoy it for what it is, not what it will become - shall we? Think about it - football, playoff baseball, cool crisp days with plenty of sunshine, cozy cool evenings perfect for campfires, comfort food and watching a movie under a blanket. Good times - but that's for sure not all. Don't forget about what's maybe the best of all. What's that you ask? Fun places with awesome seasonal activities perfect for fall family fun like The Country Mill in Charlotte.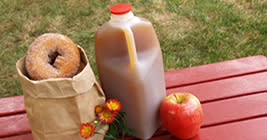 From u-pick apples to train rides, a huge pumpkin patch, petting zoo and so much more, this is just an awesome place to spend the day with your family. Warm sugary doughnuts and cider (both for while you're there and to go!) are something I get the hots for every time fall rolls around and these guys have the goods, trust me. My wife and I have been taking our kids out here for years and we always love the train rides and even Halloween stuff the deeper you get into fall. Its a neat thing to hop on the big wagon and take a ride out into the patch to pick out the perfect pumpkin. You can either pick apples yourself (lots of varieties available) or a wide variety of organic and conventional apples available already picked in our GirlPickingApplesfarm market, Meridian Farmers' Market (Sat 8am-2pm), and East Lansing Farmers' Market (10am-2pm).
Yes, winter is coming, but right now - we have Fall! Get out and enjoy it, because at sweet places like the Country Mill, you'll make memories that last a lifetime. Check out even more fun fall activities at this Fall Family Fun website we've put together, just for you. Why? Because we love fall and we want you to do the same!