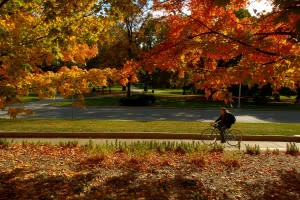 Studies indicate that smells, sounds and tastes trigger some of your happiest memories. And when Autumn returns to Michigan, its not surprising that all of your senses come alive and the memories of the season come flooding back. Be it the wafting aroma of baking apples, or the vision of landscapes painted with blazing color, we welcome the feel of crisp cool days, the taste and snap of a just-picked apple and the sounds of rustling leaves beneath our feet. The beauty, clarity and unforgettable feel of autumn is beckoning, and with it comes the warmth of a campfire, the taste of fresh pressed apple cider and the comfort of cozy sweaters and warm boots at a tailgate gathering. Hooray! Its time for fall to cast its spell in Greater Lansing. For the full list of family fall attractions, visit our Fall Family Fun website!
You wont want to miss all of the opportunities that await you. Make a list and experience it all.
Best Bet? Michigan Apple Festival and Pumpkin Carrying Contests. Cider and full bakery just waiting for you to choose. Apple slushie or caramel apples, anyone?
Uncle Johns Cider Mill in St. Johns
Best Bet? Cider, donuts, pumpkins and a hard cider tasting room. How about getting lost in a corn maze?
Best Bet? Stir the pot full of apple butter. A delightful afternoon for the whole family on Saturday and Sunday October 12-13.
Michigan Princess Riverboat Color Tours
Best Bet? Enjoy a lunch cruise on the big wheeled paddleboat upon the Grand River.
Color Cruise and Island Festival in Grand Ledge
Best Bet? Lots of pioneer demonstrations include the black kettle caramel corn and a boat cruise. October 11-13.