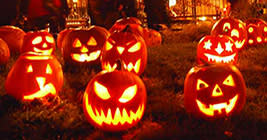 Alright it's Halloween week and more and more it seems that area attractions, businesses and organizations are putting together spooky and fun events days before the actual night of the 31st. Kids of all ages like to get into their costumes and play, so why just do it on one day? Get out before Halloween night itself and do some of these great area Halloween events at places like downtown East Lansing, Eastwood Towne Center, Harris Nature Center, downtown Lansing and more. You name it, babies, kids, pets adults, everyone wants to get in on the Halloween fun, and why not? The area is chuck full of opportunities to scare, entertain or (in case of babies and pets) overwhelm others with pure cuteness. Do any of these events sound fun? Go big and try them all! The first one starts today! Read on, fearful one...
Oct. 27
7th Annual Trick or Treat on the Square Trick-or-Treat on the Square is a free family-friendly event that celebrates the best of the fall season in the heart of the Greater Lansing region - downtown Lansing.Trick-or-Treat on the Square made its debut in 2008 and has become the premiere Halloween event in the region. The event is coordinated by Downtown Lansing Inc.'s Promotions Committee occuring on the 27th, downtown Lansing from 5 p.m. to 7:30 p.m. and admission is FREE.
Zombie Night Celebrate the living dead with a zombie dance party, gaming corner and zombie pin-up photo shoot. Wear your best zombie getup for a chance to win prizes in the costume contest. 7 p.m. Schuler Books & Music, 2820 Towne Center Blvd., Lansing. (517) Call 316-7801 ext 210 for more info.
Oct. 28
Halloween at Eastwood Towne Center Featuring trick-or-treating, donuts, cider, face painting and more. 4 6 p.m. FREE. Eastwood Towne Center, 3000 Preyde Blvd., Lansing. (517) 316-9209.
Oct. 29
Pumpkin Decorating Day Decorate a pumpkin to take home. 3 p.m. FREE. Downtown Lansing Library, 401 S. Capitol Ave., Lansing. (517) 367-6346.
Safe Halloween MSUs Greek Life hosts this Halloween carnival for ages 12 and younger, complete with trick-or-treating, games, costume contest and more. 5 7 p.m. FREE. MAC Avenue between Burcham Drive and Elizabeth Street, East Lansing. Call (248) 410- 9828 for information.
Oct. 30
Fall Fun Fest Featuring a trick-or-treat trail, costume contests, crafts, pumpkin decorating and more. 4 6:30 p.m. FREE. GM Lansing Delta Township Plant Habitat, 8175 Millett Highway, Lansing. (248) 756-3840.
Oct. 31
Halloween Adventures Featuring a Halloween fun house, crafts, a pumpkin pinata and more. 10 a.m. 4:30 p.m. $5 per child, FREE for accompanying adults. Harris Nature Center, 3998 Van Atta Road, Okemos. (517) 349-3866.
Halloween Costume Contest Uncle Johns Cider Mill invites kids to compete for coolest costume. 1 p.m. FREE to enter. Prizes for top three. Age groups: 1-3, 4-6, 7-9, 10-12. 8614 N. US-127, St. Johns. (989) 224-3686.
Meridian Mall trick-or-treating Sweets handed out store-to-store, while they last. FREE. 4 6 p.m. Meridian Mall, Okemos.
Spartan Spooktacular Featuring the Michigan Statue University Wind Symphony, Symphony Band and Jazz Octet I joined by jazz vocalist Sunny Wilkinson and her quartet, along with percussionist Gwendolyn Burgett Thrasher. The grand finale will feature the Spartan Marching Band. Kids and costumes welcome. $10-$12. Wharton Centers Cobb Great Hall. 1 (800) WHARTON.
Spooktacular Halloween Party Kids can and enjoy a safe and fun Halloween party with trick-or-treating, a spooky train ride, pumpkin carving contest and many fun fall activities. 10 a.m. 6 p.m. Peacock Road Tree Farm,11354 Peacock Road, Laingsburg. (517) 651-6198 or
Trunk or Treat Kids can go trunk-to-trunk collecting candy in the Mason First Church of the Nazarene parking lot. 6 8 p.m. FREE. 415 E. Maple St., Mason