Be A Tourist In Your Own Town is a super unique summer festival/event for a lot of reasons. The biggest one I guess is that it can be as big, or as little, as you want it to be.
Any of you reading this that have kids know from experience, like I do, that an event that is totally fun for adults is sometimes torture for kids. Hot sun, loud music, smelly food, dancing... these elements that make a winning afternoon for adults can spell doom for kids 8 and under. Shoot, 12 and under. Just as you're looking at your wife and thinking, "Isn't this great?!" you glance at your kids and one is covering their ears and the other is yawning and pushing the food you just bought them around on their plate with a plastic fork. Yes, we've all been there.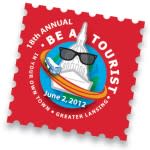 So that's one of the things I really honestly love about Be A Tourist In Your Own Town, being held from 10 am to 5 pm this Saturday June 2nd in Greater Lansing. You can honestly design this day of fun just exactly for your group. Got an ambitious group with a lot of energy? Well, the skys the limit! There are over 60 attractions of all different kinds, spread out all over the region. Lace up your running shoes and have at it. Doing Be A Tourist with small kids, the grandparents or maybe you don't have the whole day to explore? No worries - just take a slightly smaller slice of Lansing, that's all. Choose events that will work best for your specific group! Or do like I have done in the past and play Monty Hall (did I just date myself? I've been doing that a lot lately...) and do a little 'Let's Make A Deal' with the kids. Yes, we'll do Impression 5 Science Center and the Dairy Store, but Dad and Mom want to go to the Vietnam Veterans Memorial Monument and the Craig Mitchell Smith Glass Gallery (also known as the place to look with your eyes, not with your hands). This way everyones happy and that's the ultimate goal, am I right?
So yes, Be A tourist In your Own Town offers a TON - but you don't have to do a ton if you either don't want to, or your group just doesn't have what it takes to "go the distance" - Shoot, if your Be A Tourist day consists of ONE STOP - one measly stop - BUT you had a good time and you learned something new about Michigan's Capital City, then we, the event organizers at the Greater Lansing Convention and Visitors Bureau, will call that MISSION ACCOMPLISHED. Yup. Now doesn't that take all the pressure off? Have the kind of day you want to have and set the pace that works best for you. This is your hometown, and thankfully it, along with this great event (now in its 18th year) aren't going anywhere. How's that for comfy?!
No matter how much you get to, get out and explore Greater Lansing during Be A tourist In your Own Town this Saturday, June 2nd. $1 Passports on sale now!