We know with over 70 attractions and fun spots to see during Be A Tourist In Your Own Town on Saturday May 31, it can be overwhelming deciding what to visit. And then I think of all the folks who think that Be A Tourist is just for kids and families. Well, heres a little cultural take on the event. How about doing an arts and history tour?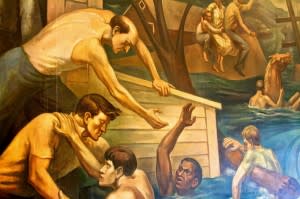 To appreciate the arts in Greater Lansing, you should plan on visiting art galleries both large and small. From modern global concepts to beautiful Michigan art, theres something for everyone to enjoy.
Absolute Gallery in Old Town (one of my favorite spots to find Michigan art and emerging artists)
Saper Galleries in East Lansing (Roy Saper sells to collectors around the world)
Eli & Edythe Broad Art Museum (modern ideas that stretch my mind about what art is)
La Fille Gallery (from custom and one-of-a-kind furniture to beautifully crafted art in concrete, this shop blows me away)
Lansing Art Gallery (one of our original 12 attractions 20 years ago, this gallery has a beautiful gift shop and an exhibit hall that features Mark Chatterlys works during Be A Tourist)
Old Town Chalk of the Town (stop at this unique and charming neighborhood and see what the sidewalk artists create. One rain, and its gone.)
Greater Lansing Potters Guild (only open to the public during Be A Tourist- discover where the area potters create their art)
I would be remiss not to mention the stunning artwork that can be found inside the BW&L John Dye Plant. The huge murals depicting the destructive forces of water and the beneficial assets of water, are not usually on view to the public, so dont miss getting inside there. Its truly beautiful.
Also, the State Capitol Building is home to 9 acres of stunning decorative painting on the walls, doors, columns as well as interesting portraiture art of former governors. Built shortly after the Civil War when funds were depleted, the Capitol saved money by painting common iron pillars to look like marble and Michigan pine panels to look like imported English walnut. Its one of the most significant examples of faux/decorative painting in the country. This is also a great time to segue into the historical points of interest you can find during Be A Tourist.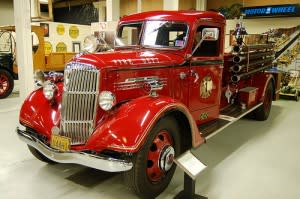 If youre interested in Lansings history, then make sure you visit the following places.
The Historical Society of Greater Lansing. Made in Lansing is the theme for their current exhibits and you can find them located in the lobby of Lansing City Hall and also at the R.E. Olds Transportation Museum. From cars to pocket protectors, Lansing is historically known for innovation!
The Central Fire Station on the corner of Shiawassee and Grand Ave. is not only a fun visit. I mean, heck, who doesnt love a fireman? But theyve got a nice treasure trove of history on display there as well.
The BW&L Depot in REO Town will be open to the public. This in the 100+ year old Grand Trunk Western Railroad depot and has been renovated. Its so nice to see it being utilized again!
And speaking of trains, head to the old Millett depot out by Woldumar Nature Center on Old Lansing Road to check out the best permanent model train set up Ive seen courtesy of the Lansing Model Railroad Club.
Love old cars? The name R.E. Olds is an important one in Lansing history. With Oldsmobile and REO cars and trucks, you cant miss a visit to the R.E. Olds Transportation Museum. Yes, there is a REO Speedwagon (no, not the band) there.
The R.E. Olds mausoleum is undergoing renovation at Mt. Hope Cemetery right now. Find all kinds of Lansing history buried there. Learn about murder, mystery and mayhem during Be A Tourist!
And finally, how about some sports history? The Greater Lansing Sports Hall of Fame is located in the Lansing Center and you can find the rich athletic history of the area.
Arts and History are alive in Greater Lansing. Get acquainted with it during Be A Tourist In Your Own Town, Saturday, May 31st from 10 a.m.-5 p.m.