We went to Zap Zone last week for a cool kind of spin on a company picnic. There were no worries about anything like upcoming thunderstorms, heat or if it was an appropriate activity for the whole family. It wasnt a weather-dependent event and even the employees without kids came and participated. Co-workers children ranged from toddlers on up. And I brought my 23 year old son. We ALL had a good time.With delicioussubs from Lennys Sub Shop and our own beverages, we took over a party room and a half to accommodate us all. From the challenging 18 holes of glo golf to the multi-levels of the laser tag, the bumper cars, the extensive arcade game room and the bouncy jump area, there was absolutely something for every age level.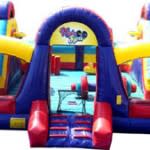 My personal favorite was the laser tag. Although I didnt score super high points (or even mediocre points,) there was plenty of hiding room for the snipers and the point blank shots. We had 4 different teams in there and it was so large that there were a lot of times I felt like the only person wandering the maze. That was usually when I got zapped. But I had a ball and was pretty tuckered out by the end of the session.
This is certainly a much biggerplace than when Zap Zone first started out in Lansing and where I held or attended many a birthday party for my kids and their friends when they were growing up. This new venue isa former movie cinema complex, so everyroom isspacious and high-ceilinged. If youre looking to get the wiggles out of the kids, or to boost the company morale, this is a great place for the whole familyor the whole company. For sure, Zap Zone is a blast!