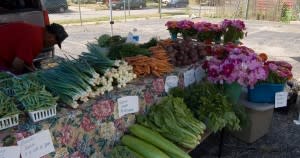 Greater Lansing is home to well over 15 community farmers' markets that set up once a week and are ripe for the picking and ready to offer you home-grown, fresh as can be, local products. You can pretty much find one every day of the week somewhere in the area and I promise you, you wont be disappointed. Although you may think of Lansing as an urban environment, it is surrounded with a wealth of fertile agricultural land and farmers. Even within the city, you can find many neighborhood co-op gardens that are growing both size-wise and in numbers. The buzz recently is to be fresh and local. I happen to think Im a little bit of both on a good day. (insert wink here)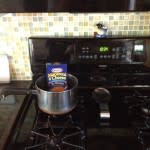 If youre like me, tired after a long day at work, dinner sometime comes out of a blue and yellow box and happens only if Im lucky enough to have milk thats not spoiled in the fridge.
But when my neighborhood Allen Street Farmers Market rolls around every Wednesday, you can find me walking down there and picking up yummy fresh bread, salad greens and just picked this morning anything. This week it was strawberries gorgeous, fresh, ripe-as-can-be delicious strawberries. June is strawberry month and thats a beautiful thing. But later it might be tomatoes, carrots, melons, corn, pumpkins, zucchini, or just about whatever happens to be in season that week.
I love to meet my neighbors there, see local chefs picking up supplies and chatting with the vendors and listen to the musicians play. It delights me to see kids dancing and helping to pick out produce. Its one of the best ways of connecting with my community and neighborhood. Go often enough, and they remember you and greet you like an old friend. Its just the best feeling.
So good-bye Hamburger Helper and Kraft macaroni and cheese. Hello grilled chicken and fresh fruits and veggies. Greater Lansing Farmers Markets are open and ready for you. And dont forget the year-round Lansing City Market open six days a week during the growing months. Take advantage of all these providers and soak up some local flavor! Fresh, fresh, fresh. Local, local, local. Get some.