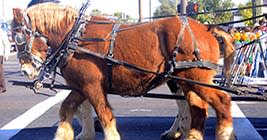 What do you think of when you hear the term 'Horse Power'? I bet you don't think of actual horses at all, but some souped-up sports car, am I right? Well this weekend, readjust your perspective a bit and see what REAL horse power is all about. I'm talking living, breathing, sweating, muscular horse power. Did I say these horses have power? Youve got no idea. The Great Lakes International Draft Horse Show and Pull (in East Lansing October 17-20, 2013) is an awesome showcase of some of the biggest and strongest horses on earth, and they are a marvel to behold.
With over 1,200 draft horses from the U.S. and Canada, The Michigan Great Lakes International Draft Horse Show and Pull (MGLI) held at the MSU Pavilion is the largest annual draft horse event in North America. MGLIs annual mid-October 4-day event features some of the finest Belgians, Clydesdales, Shires, Percherons and mules that have ever performed in an arena or in the field anywhere! MGLI is the only event in the world to feature halter classes, hitching, plowing, pulling and riding for draft horse breeds and mules at the same time and location. These elegant and massive horses which weigh over a ton compete in single horse hitch through the entire range of eight-horse hitch classes. Prepare to be impressed and hey, maybe even show some respect! After all, this great country was built upon the backs of fine animals like the ones you'll see at the show.
These "big boys" will also demonstrate their raw power in the light and heavyweight pulling contests during which they pull a truck-mounted dynamometer, and during the "barnyard pull" teams test their horse power with a weighted sled.
To see these heavy horses perform the tasks that they were bred for, be sure to visit the plowing matches and field events on the East side of the Pavilion, where admission is free. And, English and western saddle classes demonstrate that these gentle giants can be ridden as well.
Commercial exhibits jam-pack the pavilion offering thousands of unique equine items, and the major breed associations are on hand to promote their breeds and answer questions. Visit Things to do in Lansing, MI for more information on this event!
Draft Horse Show & Pull
October 17, 2013 - October 20, 2013 Venue: MSU Pavilion Address: 4301 Farm Lane, East Lansing, MI 48824 Times: 8:30 AM Thursday and Sunday, 7:30 AM Friday and Saturday Admission: Varies 517-432-5566