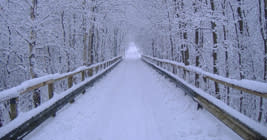 Yep. Despite all the build-up and anticipation, even the greatest of moments must pass, and so has this one, Christmas 2012 is gone and Santa and his sleigh are a speck in the rear view mirror. We're left with garbage bags full of wrapping paper, a new book, a stiff new pair of jeans and a big question for each other - "Now what?" For months, since Halloween ended really, we've been talking and thinking about Christmas gifts and plans and now that all that has been carried out, there is a bit of an empty feeling left in our laps. While the NOW is what we live for, life tends to be about planning, so somehow bigger than the NOW is the question of whats NEXT - what do we have to look forward to? A tough question.
The answer, I guess, depends on the likes and dislikes of the one who asked the question. What's next, you ask? Well, what do you like? Snow? I hope so, because we've got plenty of winter left on the schedule. Get out to some of the Greater Lansing parks and check out the winter landscape now that we've got a blanket of the white powdery stuff. Take the kids out sledding. Make a huge snowman and then go inside to warm up and observe your work from the comfort of your kitchen, with hot chocolate, wrapped in the brand new Snuggie your sister got for you for Christmas. Hate the cold and tired of being around the house? Understandable. Escape into a movie! The holiday season is a solid time for movie releases and you know you got an NCG Cinema Gift Card in your stocking. Do like I did and go see the Hobbit...twice. Then there is also the time-honored tradition of returning gifts you received to the mall and switching them for something that you pick out yourself! Sure this sounds mean, but admit it, its fun. Take a book you'll never read and switch it for a DVD you've really been wanting. Take the shirt and sweater combo that just isn't you and get a bunch of new bath towels. Or something else! This time, the choice is yours. I call it the "In-Store Credit Game" and its a lot of fun to play. So how does all that sound to you? Fun? Did I paint a picture of what you can look forward to? How about Valentine's Day? That's kind of coming up. If not now, very soon, hotels all over the Greater Lansing area will be offering comprehensive romance packages which bundle overnight stays with champagne, free breakfast and other treats. Do something thoughtful and special for the loved one in your life and surprise him or her with a special night for just the two of you. Still didn't get you?! Still not enough to fill your void for something good to look forward to? Wow, you're tough. Umm...okay...How about...Spring!? Spring is coming closer every day! In fact, if you think about it in terms of how long you've been thinking about and planning for Christmas, its for sure not to early to start thinking about and getting jazzed for Spring and all the fun that brings. I'm talking about everything from flower buds to Lugnuts baseball, warm breezes and sleeping with the window open, having turned off Big Mr. Furnace for the season. How does that grab you? Spartan Basketball making a deep run into March Madness! The splendor of MSU Campus in the spring, specifically Beal Gardens! A coat-free walk on the downtown Lansing Rivertrail on your lunch break, chatting with a friend about your upcoming yard work! Now I've got you! You're all of a sudden thinking about mulch and driving with your window down! You're excited for something coming up again and so, my job here is done.
Yes, Santa has left the building, but the anticipation of something different is right around the corner. You just have to open your eyes and see it headed your way. For a year of fun things to look forward to, check out Calendar of Lansing Michigan Events!