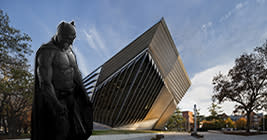 Anyone who has seen or hopefully been to the Eli and Edythe Broad Art Museum on the Campus of Michigan State University knows it is an amazing, one of a kind, out-of-this-world structure. How far out of this world? Well, how about right square in the middle of the DC Comics Universe? For at least a few days, this is in fact the case. All indications show that Warner Brothers will be in town October 16 and 17th for overnight filming of the epic film set for 2016 release, Batman Versus Superman: Dawn of Justice.
While all the necessary extras have already been selected and the modifications to the outside of the museum have been in place for weeks, the filming itself is set for this week. How to cool to think that a big time Hollywood blockbuster film will be using the elegant and edgy Broad Museum as a backdrop. So many exciting questions! How much will the museum be in the movie? Will it be a part of light and elegant Metropolis (Supermans home town) or dark and gloomy Gotham (Batman's hub)? What will be going on inside the museum in the movie? An elegant party? A secret hideout? Hard to say! There are a lot of questions that can't get answered until 2016 - feels like a lifetime from now. I guess its just cool to know a little bit of East Lansing will be a part of the show.
In the meantime, before the movie comes out, we still have the Broad Museum as a local treasure, and we can enjoy that all the time. Well, except for this week, when Warner Brothers takes over. But after the filming is done, the Broad becomes ours again. If you haven't gone through this cool, contemporary art museum yet, come see for yourself why scouts for this big movie made Broad a part of the set. Or, if you've been to Broad before, come back, and walk around the inside and outside and let your imagination run wild about how they'll use it in the movie. If you're like me you'll picture the Joker coming down the stairs and disrupting a party thrown by Bruce Wayne (Batman's secret identity for you non-comic book people), or maybe Superman grabbing his nemesis Lex Luthor by the lapel and warning him about the dangers of carrying out his latest villainous plot.
Yes, we have to wait for the movie, but the Broad is here to stay. Come by and see the buzz this week and when Warner Brothers Co. is packed up and headed back home, come explore the museum altogether. Inside and out. It's a hot spot to be, in the movie world, in the comic world and, luckily, in our neighborhood.