Remember in this blog when I told you at the beginning of spring that we are not just the State Capital, but we are also Michigan's FESTIVAL Capital? Well, you know by now I wasn't kidding and, by the way, we're still going strong. Right on the heels of a wildly successful Old Town Jazz Fest, we come into one of my all time favorite local events, the Great Lakes Folk Fest! From August 9 to 11 downtown East Lansing will be full of music, dancing, food and all kinds of treasured folk traditions. A totally unique fusion of art fair, music festival, county fair, multi-ethnic festival, hands-on activity workshops and celebration of cultural heritage, the Great Lakes Folk Fest is a true local treasure I look forward to every year. The brain-child of the Michigan State University Museum, the event showcases the traditional cultural treasures of the nation's Upper Midwest and a sampling of the best of traditional artists from around the country and the world.
The festival also encourages ever-important cross-cultural understanding of our diverse society through the presentation of musicians, dancers, cooks, storytellers and craftspeople whose traditions are rooted in their communities.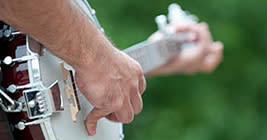 The festival includes nearly 100 musicians or dancers in groups, who perform at least twice and sometimes as many as four times over the weekend. As a man of Irish descent with a love of fiddle and blue grass music, I always seek out these particular acts, but the entire festival is full of great surprises too - so try something new, I'm guessing you'll love it! Also featured are traditional and other food vendors, craft vendors and many other individual artists/demonstrators. There are four performance stages (including one with a 2,400 sq. ft. dance floor), children's hands-on activities, crafts demonstrations, and Folk Festival marketplace- featuring unique handmade crafts. In addition, there are special programs every year, which feature some aspect of traditional culture. Visit the Greater Lansing Michigan Folk Festival website and get down to the event this weekend for the best time youll have all summer.