This year a much-loved East Lansing event officially hits the half-century mark. Yup, 50 years of bringing style, culture and picturesque humanity in all its forms to the campus of Michigan State University. I'm speaking of course of the East Lansing Art Festival, coming up very quickly May 18th and 19th.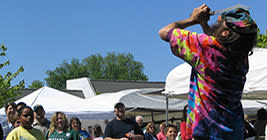 From fine art to more crafty stuff to children's art opportunities to food, music and entertainment, this cherished event is just a whole bunch of fun, and seems like it always has been. Think of how much your life, (or downtown East Lansing for that matter) has changed in the last 50 years. Think of all the artists that were inspired by something they saw at this open air gallery of creative works, and now maybe they are a part of the show, or at least have become a loyal attendee and cultivated a long life full of appreciation for the arts. I know people come from all over for this Grand-Daddy of state-wide art festivals, and I totally understand why. I love to come out and stroll through the booths and see whats new. It's a cool way to get inspired and feed your brain even if you don't buy a single thing - but its highly encouraged by the artists that you do so! Someone is always doing something new and cool with metal. Some crazy fish made out of bolts, washers and maybe a GM seat belt buckle. Amazing wood pieces of all kinds from walking sticks, to chairs to table-top art. Programs like PhotoShop have taken artistic photography to a whole new level and its fun to see what can be done with all the tools and talent. I'm personally a big fan of pen and ink stuff, so I always keep my eye peeled for that. Food vendors are always out in force, tempting you to see what artistic culinary delight would be just right for your stomach. Street vendors, including my personal favorite, Crazy Richard the Madd Juggler, will be busking on the streets, ready to juggle, swords, apples, flaming batons and generally entertain with his antics. You get where I'm headed. The East Lansing Art Fest is just part of this community, and its a treasured tradition that you simply can't miss. Get down to the East Lansing Art Festival this May 18th from 10 a.m. to 6 p.m. and May 19 from 10 a.m. to 5 p.m. Get more information at www.elartfest.com.
East Lansing is the canvas, this festival is the artist - come down, and be painted into the scenery as part of history. You'll look perfect hanging over my couch.