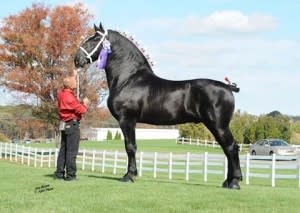 Seriously, who doesn't love to watch those tug-on-your-heartstrings Budweiser commercials that seem to come up every Super Bowl or Christmas season? The majesty and sheer size of the Clydesdale horses are just incredible. Of course, the cute little puppy in dramatic comparison is darling too.
If you want to see those beautiful Clydesdales, and also big black Percherons, Belgians and Shire horses, then your wait is over. See them up close and personal and watch themperform at the Michigan Great Lakes International Draft Horse Show and Pull at MSUs Ag Pavilion today through Sunday. If you check out the schedule you can see that not only are they doing some pulling competitions, but also some outdoor plowing and team halter classes and youll even find some mules there, too. Growing up in the suburbs, horses were not exactly a common thing for me, and the idea of a working horse conjured up Pa Ingalls standing on the back of his plow. For crying out loud, I didnt climb into a pickup truck until I was in college. But thats a whole different story. So its a thrill to see what these horses were bred for. To see them work and show off their strength, beauty and purpose.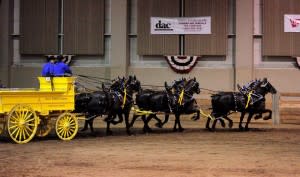 What: Michigan Great Lakes International Draft Horse Show and Pull
Where: Michigan State University Agricultural Pavilion. Corner of Mt. Hope and Farm Lane in East Lansing.
When: Thursday, October 16-Sunday, October 19, 2014
Why: This is a great learning experience of our heritage when horses were so relied upon for our agriculture and also as transportation. Plus it's fun for the whole family!
Website:http://www.mgli.org/index.html