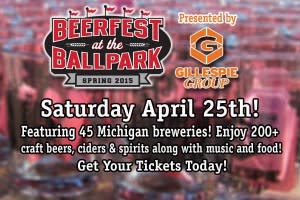 Id like to invite you to the newly renovated Cooley Law School Stadium on Saturday, April 25thfrom 3-8 p.m. Come on over and Ill pour you a tasty Michigan craft beer. Whats your pleasure? There will be offerings from Arcadia, Founders and Griffin Claw alongside some delicious locally brewed EagleMonk, Sleepwalker, Midtown and Tapistry Brewing beers plus so many more that Ipromise you're goingto get to know and love. Forty-five Michigan breweries offering over 200 options. Yep, this is your opportunity to taste-test the gamut of awesome regional suds.
Whats that you say? Beers not your thing? Then come to the partyanyway and you can sample some great hard ciders and super smooth distilled spirits. You do realize that here in the Lansing area we have quite a number of places that make beer, cider and spirits, right? My recommendation is to try the fabulous Hue vodka from downtown Lansings American Fifth and a tasty hard cider from Uncle Johns Cider Mill in St. Johns.
Live music, great adult beverages, food for purchase and good company in a great venue will make this a dynamite event. Everything will take place on the new Lugnuts concourse. Bundle up. Its Spring in Michigan and the weather is always iffy and its an outdoor event. Hurry up Saturday. I cant wait to see you!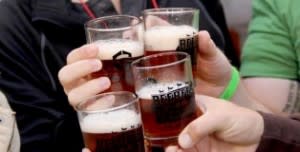 What: Beerfest at the Ballpark Spring 2015
When: Saturday April 25, 2015
Where: Cooley Law School Stadium (Home to the Lansing Lugnuts) 505 E. Michigan Ave., Lansing.
Admission: Advance Tickets: $30 (save $5) = Logo Tasting Glass, 10 Tasting Tickets - 3oz each Advance VIP Tickets: $40 (Exclusive First 1000) = Early 2pm Entry, Logo Tasting Glass, 15 Tasting Tickets - 3oz each Tickets at Gate if Festival is Not Sold out: $35 = Logo Tasting Glass, 10 Tasting Tickets - 3oz each * Entry to the Festival, Logo Tasting Glass, 10 Tasting Tickets - each tasting ticket is redeemable for a 3oz pour of one of the 200+ beer and cider (please note that some beers are specialty beers or contain higher ABV and may require additional tickets). Additional tickets will be available for purchase at the festival. Designated Driver Tickets: $10 = Purchased at the gate and includes bottle of water.
More Information: http://www.beerfestattheballpark.net/
Want to check out all the local wine, beer and spirits available in the Lansing area? Our burgeoning Makers & Shakers Trail is about to launch.
Did you know that Greater Lansing offers over 150 things to do? With only 48 hours in a weekend, the clock is ticking. Download the LAN150 Bucket List to get started.