As odd as it sounds, people seem to like zombies. Not sure exactly why, given that they're a horrific abomination of humanity and all. I'm thinking of the popular cable series, THE WALKING DEAD, all the chatter in the news about the ZOMBIE APOCOLYPSE and even a few unfortunate people, high on bath salts, chewing on even more unfortunate people's faces. Maybe people are comfortable with zombies because even if a real zombie did appear, he or she would be slow and stupid enough that you would most likely survive the attack. That makes them better than a vampire or werewolf I guess, but now I'm splitting hairs. It's just a crazy world we live in. Truthfully, I think the most likely reason zombies are getting much love right now is that zombies spark our creative minds, and let's face it - being scary is fun. Look at the hundreds of years of successful Halloween seasons for proof. Well you don't have to wait for Halloween to get your scare on in Greater Lansing. And best of all, it's for a good cause! Wait, zombies have causes? Hey, I guess so! I mean, I said the world was crazy right?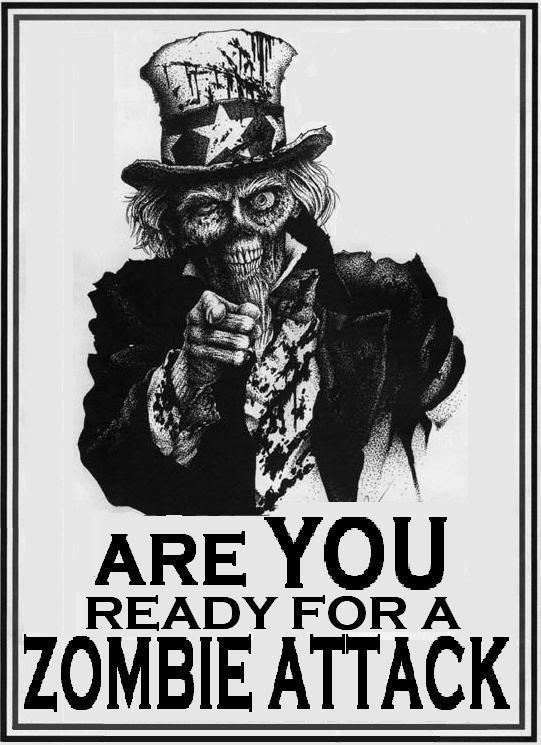 Coming up this Saturday, September 29 from 11 a.m. to 3 p.m. will be the 2012 Downtown Lansing Zombie Walk benefitting the Greater Lansing Food Bank. The event starts in Ferris Park near downtown Lansing. The event promises to include an obstacle course, three-legged zombie races and (wait for it) zombie "snacks". Let's hope that we're not going to give zombie's what they traditionally are asking for.. <moaning> Brains...Brains...
Speaking of brains and food (yes, gross segway, I know) how awesome that this event is benefitting the Greater Lansing Food Bank? The food bank is such a worthwhile charity, used by numerous families daily throughout the area. So this time the zombies are feeding the living, instead of feeding ON the living. How sweet... I think.
So do you feel like putting red corn syrup all over your face, wearing shredded clothes, walking around downtown and raising money and grub for the Greater Lansing Food Bank?! Get involved in the 2012 Downtown Lansing Zombie Walk. Check out their facebook page link below for specifics. Even if you don't want to get involved, this sounds like a cool thing to go and watch. Come check it out, should be a THRILLER.
September 29, 2012 - September 29, 2012 11 A.M. to 3 P.M. Venue: Ferris Park, Lansing Contact: Steven Ward 517-894-3584 http://www.facebook.com/events/383399038344377/