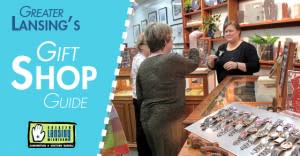 Vacations always seem either sooo far away in the future, or are a blur in the distant past. Whats nicer that coming across something in your everyday life after a great trip that brings a lovely memory to mind? You open your dresser drawer and Bam! Theres that great t-shirt you picked up on that trip with the kids. Glance over in your living room to that special piece of art that you simply couldnt resist in that cute little gallery you and your sweetheart stumbled upon. It doesnt matter whether its something as simple as a ball cap or a game that you pull out for family game night. Thats what souvenirs are all about. They trigger a nostalgic thought process that takes you back to a memorable time and place.
So when you visit the Lansing area, dont forget to make a stop at the numerous gift shops at your favorite attractions. They are specifically stocked with that perfectly unique memento to help you remember your trip to Michigans Capital region like
Impression 5 Science Center. Find books, games and toys that inspire learning and a love of science.
Michigan Historical Museum. Here you can find distinctly Michigan items from jewelry to puzzles and books all about our Great Lakes state.
Lansing Lugnuts. Hit up the Nuts N Bolts Shop to get nutty apparel and team souvenirs.
Potter Park Zoo. Your trip to the zoo is not complete without a visit to the Zoovenir Shop.
Michigan Womens Historical Center. Pick up some fair trade jewelry or some Sassy Womens Salsa.
Wharton Center for Performing Arts. This is a cornucopia of beautiful jewelry, musical items, dance, theater and other cultural souvenirs.
R.E. Olds Transportation Museum. Like cars? Find GM and Oldsmobile items, REO t-shirts and other car-related items.
MSU Museum. Explore a treasure trove of handcrafted items from not only around the world but right here in Michigan.
Its fun and easy to pick up some great merchandise. Come visit Greater Lansing and dont forget to make a stop at the gift shop.
Greater Lansing offers over 150 things to do. With only 48 hours in a weekend, the clock is ticking. Download the LAN150 Bucket List to get started.