I like wine. I tolerate beer. But I love Vodka. Why? Because it doesn't taste like anything or at least it shouldn't. It shouldn't make you shudder or catch your breath when you take a sip. Vodka should feel clean and smooth with a warm feeling radiating down your throat when you swallow it. And when you mix it with something, you really shouldn't get any other flavor than the mix. Just that warm feeling. Now thats a good drink. Add to that some great conversation with friends and some delicious snacks and youve got a winning combination.
So let me let you in on a secret find of mine. I discovered a tasting room in East Lansing called Red Cedar Spirits. Its the home of Michigan State Universitys artisan distilling program. Think of it like a cocktail of laboratory, classroom and tasting bar. A bit off the beaten path, this nondescript building on Merritt Road holds a treasure trove of the smoothest Vodka, the best apple brandy and some other great spirits. Come on. Belly on up to the bar with the gang and indulge in some great drinks.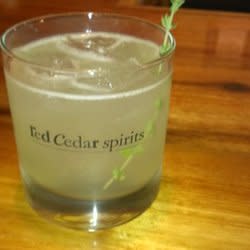 How about a Vodka Gimlet? Order up an Apple Jack Rabbit. The Cucumber Cooler was a winner as well. All tasted and approved by me. And the people making this stuff are more than likely food science majors or chemical engineer students minor-ing in distilling, plus they make their own syrups and mixers. Add to that an MSU Dairy Store cheese tray and you cant go wrong.
Greater Lansing is actually growing into a nice home base for a number of new local craft distilleries such as Sleepwalker Spirits at the Allen Market Place, Sanctuary Spirits in Grand Ledge and the soon-to-be-opened American Fifth Spirits in downtown Lansing on Larch St. next to the ballpark. This was the missing ingredient to the wineries and craft breweries that people are expecting when they travel.
Want more information on craft distilleries, craft brews and wineries in the Lansing area? Take a look at our 21 and Up Trail and get out there and do a little taste testing, then head home with whatever your favorite might be. Me? I'll take the Red Cedar Spirits Vodka. It will keep me warm and happy during the upcoming winter months.
And for all of you who may like a little trivia, heres a little Vodka in America 411 from http://www.tastings.com/spirits/vodka.html.
Vodka was first imported into the United States in commercial quantities around the turn of the 20th century. Its primary market was immigrants from Eastern Europe. After the repeal of National Prohibition in 1933, the Heublein Company bought the rights to the Smirnoff brand of Vodka from its White Russian owners and relaunched Vodka into the U.S. market. Sales languished until an enterprising liquor salesman in South Carolina started promoting it as "Smirnoff White Whisky No taste. No smell." Sales started to increase and American Vodka, after marking time during World War II, was on its way to marketing success. The first popular Vodka-based cocktail was a combination of Vodka and ginger ale called the Moscow Mule. It was marketed with its own special copper mug, examples of which can still be found in the back shelves of liquor cabinets and flea markets of America. Today Vodka is the dominant white spirit in the United States, helped along by its versatility as a mixer and some very clever advertising campaigns from the various producers. One of the most famous of these was the classic double entendre tag line: "Smirnoff It leaves you breathless."
For more blog posts, feel free to check out some other topics. We hope you'll find some great nuggets of information to make your trip to Lansing more enjoyable!