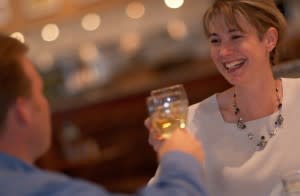 Greater Lansing can set the stage for a great and memorable date night. There are so many diverse and locally-owned eateries that theres no need to just eat at one specific restaurant. Why not mix it up a bit? A progressive dinner and a stroll gives you all the ingredients to make it the best first date or the best anniversary celebration ever.
Options abound. Head to East Lansing and have dinner at Dublin Square or Beggars Banquet. Remember, youre in a college town so casual is the norm. Beggars has a great wine list, Dublin has a nice Irish ambience. Take your time and reminisce about your college days. When dinner is over, head outside and take a stroll around East Lansing. Galleries and shops line the streets of Grand River Avenue and Albert Streets. Then wander on over to MSU campus. Legend says that if you kiss in the moonlight at Beaumont Towerwell, does it really matter? Just take time for a bit of romance.
Downtown Lansing also has some interesting options. Put on your party shoes on and start with appetizers at Tavern on the Square followed by dinner at Troppo. Hey, they are THE places to be seen and to see whos out and about. Save some room for dessert then take a walk down Washington Square, stop in for a wine flight at P Squared Wine Bar or duck in for a special Scotch whiskey at The Black Rose. Another option is to have an intimate dinner at The Knight Cap. The lights are low and the candles are lit. This is the ultimate rendezvous spot with delicious steaks.
So make up your own itinerary. Maybe make it a dessert progressive, or a wine tasting at various spots. Top the evening off with a spin on the dance floor at The Exchange with some live music or hit up Tavern for some DJ beats. Its all waiting in for you to make the date in Greater Lansing.