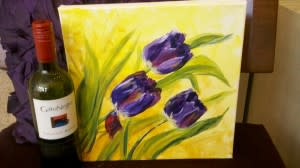 Walk into Gallery 1212 on Turner St. in Old Town and you will find beautiful pieces of art from a variety of Michigan artists. As in other galleries, the artwork changes up each month and a different artist is featured. But what you may not know is that they have a wonderful studio in the back room where they host workshops, offer art lessons or you can just hang out and watch a true artist at work. But heres something that you may not be aware of. If you know me, you will know that when someone mentions wine my ears perk up. And if it feels like a party, Im so there!!
So listen to this. They have an event called Cork & Canvas every first and third Friday of the month from 6-9 p.m. Grab a bottle of wine, your best friend, your spouse, or even a date and head on over to the back room at Gallery 1212. For just $25 they supply the canvas, paint, brushes, subject and step-by-step instructions and you walk out at the end of the event with your own piece of artand maybe even a sense of joy and fulfillment. I recently heard the story of a guy that begged to get into a particular class because he knew this certain woman was attending and it ended up to be the beginning of a beautiful relationship. He ended up with a piece of artwork and a new girlfriend.
Just dont forget to register since these nights fill up fast. Another option is to reserve the room for a private art party on a different night. Gather 5 couples for a different kind of night out. Or have a girlfriends night out for a party of 10. How fun would that be? Just dont forget the cork part. Thats on you. And personally, I think the wine is a very good way to stimulate the creative juices and to get some inspiration flowing. Ill be calling to reserve my spot soon.