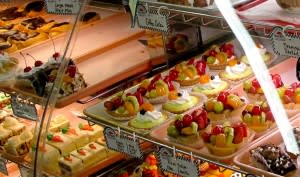 When I first met Mena Castriciano, I was escorting a travel writer who was in town on assignment to write about some iconic Lansing places. Of course I led her through the doors of Roma Bakeryand Imported Foodsalong with other places. Downtown Lansing is just rife with family-owned businesses that have withstood the test of time. Think of Fabianos Candies, Kositcheks Menswear, Linn & Owen Jewelers and The Peanut Shop. Roma Bakery, opened in 1969 on the corner of Cedar and Erie Streets then moved ten years later to their current location on Cedar Street. Not just a bakery, Roma serves up a delicious deli-style lunch. This is probably the best place in Lansing to get a great old-time lunch, pick up some imported grocery items and its right downtown. Mena delighted in showing off her wedding cakes as well. This shop is a Lansing tradition for visitors and residents alike. Look out in February, come Fat Tuesday, THIS is the place to get the best paczkis. Make sure you order them ahead of time, or you might miss out because they fly out of there. Seriously. They can sell up to 60,000 in less than a week.
So when we went in, Mena was quick to introduce us to her soft-spoken husband Sostine who was in the back room doing his thing. That thing is baking. Baking fabulous things. We did a little taste testing, and I have to say that the cannoli were my favorite. Not too sweet or starchy and withadded chocolate bits which tastedquite lovely with the ricotta. Another favorite were the beautiful, colorful fruit tarts-a delight to both the eye and the palate. But what struck me the most, was this partnership of love and respect the Casticianaos had for each other. A beautiful thing, indeed.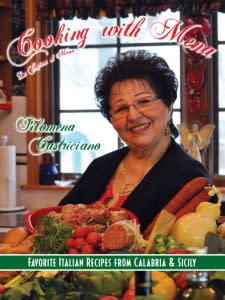 This week, Mena has a big deal going on. Cooking with Mena is a cookbook that has just been published and has recipes from her family. I love that Mena says that shes a southern lady. Well, southern Italy she means, like Sicily and Calabria. And this southern lady loves to cook. Both this Saturday and next, she will be signing her book from 2-5 p.m. and sharing her love of cooking. I can't wait.
What: Roma Bakery cookbook sale and book signing
When: November 15, November 22 2-5 p.m.
Where: 428 N. Cedar St., Lansing
Cost: Cooking with Mena $24.95
Roma Social: Follow Roma on Twitter @RomaBakeryDeli or on Facebook https://www.facebook.com/RomaBakeryDeli
Formore blog posts, feel free to check out some other topics. We hope youll find some great nuggets of information to make your trip to Lansing more enjoyable!