Well Christmas is right around the corner and hopefully all of the stressful parts of the holiday season are out of the way - Well, most of them anyway. For me that's getting the house decorated and shopping. I guess there is still crazy family dynamics, travel and everything to deal with but hey, it's part of the deal. More and more Christmas brings along with it a lot of hustle and bustle and if you don't find a way to enjoy it, or at least successfully de-stress from it, you're going to end up not enjoying the holiday. Now c'mon, with all the work you've done that would be just a plain shame. Your brain has been so busy planning and budgeting and scheming and maybe even a little sneaking, you need to give it a chance to relax. Call it a gift to your eyes and brain. How on earth will you make that happen you wonder? Well worry not my friends because I'm here today to share with you a holiday event that asks very little of you and is COMPLETELY the opposite of the mall this time of year. Come out and enjoy the scenic, relaxing and beautiful Wonderland of Lights at the Potter Park Zoo.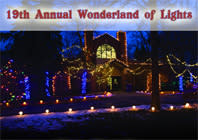 This great event, now in its 19th year, gives attendees a stunning holiday light show featuring literally tens of thousands of lights decorating all kinds of things as you stroll the trails inside the zoo under cold, dark star-lit skies. Bundle up, grab your family or someone special and take a leisurely walk and enjoy the calm and beauty on display. At $4 for adults and just $2 for children its well worth it. Trust me; your nerves will thank you for it. Forget for a while about all the work and stress Christmas brings and just enjoy how beautiful this time of year can be when you take the time to enjoy it. Also don't forget, this event is at the zoo, so of course you're in for some animal fun as well!
Each night guests will be treated to special animal presentations, cookie decorating, craft stations and more. Special musical guests and events are listed on the schedule below. Wonderland of Lights is winding down but still available to see this Thursday December 22nd and Friday December 23rd from 5 p.m. to 8 p.m. Check it out!