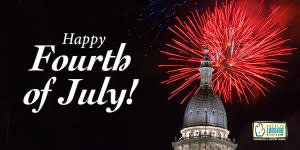 I dont know about you, but my ideal way to celebrate the 4th of July is to spend a great day outdoors doing whatever I feel like, followed by hot dogs and hamburgers on the grill. Potato salad is pretty mandatory and potato chips, too. And some chocolate brownies with the red, white and blue jimmies on them. That would be awesome. And then to top the evening off right, I'll head out to watch some fireworks. Let me just give you my honest take on this. Im not a big fan of fireworks in the backyard, off the dock or in the street... There are just too many opportunities for injuries and duds and it makes me nervous. Really, really nervous. Oh and annoyed. But a professional fireworks display? That ranks right up there with parades with fancy marching bands and baton twirlers. Oh, heck yes. Im the goofball oohing and aww-ing, clapping with glee and trying to pick out my favorite firework. The chrysanthemum ones top the list. I can pass on the single ones that go up and just go bang. Give me some magical shimmers, falling stars and unexpected curlicues with my big bang. So with that in mind, heres a list of places to get your fill of big bang fireworks,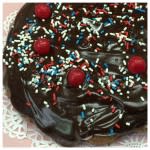 patriotic parades and free concert bands. Happy Independence Day America!
Friday, July 3
Delta Township Fireworks Celebration. Beginning at dusk at Sharp Park, 1401 Elmwood Road, Lansing. Concert 6:30-9:30 p.m. at the amphitheater. Concession stands available, or you may bring your own cooler. Very limited parking at the park. A parking pass, available at the Delta Township Parks and Recreation Department, is required. Info: www.deltami.gov. Free.
Williamston Fourth of July Fireworks. At dusk. First Baptist Church, 3185 N. Williamston Road, Williamston. Info: 655-2139.
Saturday, July 4
City of Lansing Fourth of July Parade. Celebrate Independence Day with clowns, antique and specialty automobiles, musicians, dance troops, community groups and military units at the parade. The parade steps off from the Capitol grounds at 11 a.m.
City of Lansing Fireworks. At Lou Adado Riverfront Park, 501 N. Grand Ave., Lansing. Patriotic music will be performed by the Lansing Concert Band at 8 p.m. followed by the fireworks at 10 p.m. Bring a blanket or lawn chair and enjoy a free evening of entertainment.
Lansing Lugnuts Fourth of July Fireworks, Cooley Law School Stadium, 505 E. Michigan Ave., Lansing. The Lugnuts are in town taking on the Lake County Captains. First pitch is at 7:05 p.m. The fireworks will be held at dusk following the ball game. Info: 485-4500.
River Town Adventures. City Market Drive, Lansing. Lighting up the River. The guys at River Town Adventures are renting LED-lit kayaks for a paddle on the Grand River in the evening. This will be cool both on the water and watching from the banks of the Grand.
Eaton Rapids Independence Day Celebration, downtown Eaton Rapids. Parade along Main Street at 11 a.m. Fireworks at Howe Field starting at 10:15 p.m. Other events include a pancake breakfast and silent auction, craft show, Rotary Club chicken dinner, kid zone, duck race, dog show, hot dog and watermelon eating contest, beer tent with live music and a DJ, plus a late night movie at the amphitheater.
Mason Fourth of July Fireworks, dusk. Ingham County Fairgrounds, 700 E. Ash St., Mason. Sponsored by the Mason and Dansville fire departments.
Meridian Township Fireworks, 10 p.m. Central Park South, 1990 Central Park Drive, Okemos. Best viewing areas are located on the north side of Meridian Mall and the Township Municipal Complex on Marsh Road. Show is expected to last 15-20 minutes. In case of rain or high winds, event will be July 5. Info: www.meridian.mi.us/parksandrecreaton.
St. Johns Fourth of July Fireworks, St. Johns City Park, Sickles and Morton Streets, St. Johns. Live concert at the Performance Shell at 7 p.m. Fireworks at dusk. Info: 669-9397.
Did you know that Greater Lansing offers over 150 things to do? With only 48 hours in a weekend, the clock is ticking. Download the LAN150 Bucket List to get started.