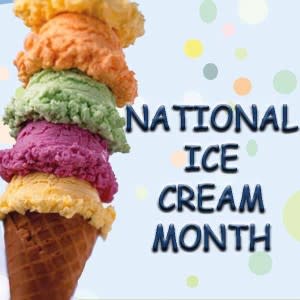 You don't have to twist people's arm to eat ice cream, but that doesn't mean you shouldn't block out some time to celebrate this fantastic frozen treat. Sure, why not?! Every year in July, right in the dog days of summer, we take our time and set our sights on frozen treats that live in cones.
In 1984, President Ronald Reagan designated July as National Ice Cream Month and the third Sunday of the month as National Ice Cream Day. He recognized ice cream as a fun and nutritious (that's perhaps a bit of a stretch, but what the hey... it was the 80's) food that is enjoyed by over 90 percent of the nation's population. In the proclamation, President Reagan called for all people of the United States to observe these events with "appropriate ceremonies and activities."
The International Ice Cream Association (IICA) encourages retailers and consumers to celebrate July as National Ice Cream Month. In 2016, National Ice Cream Day will be Sunday, July 17. Yes, good people, July 17 - that's coming right up! Are you ready? Have you laid in stores of your favorite flavors? You may want to get your plans together.
People are serious about their ice cream. About 10.3 percent of all the milk produced by U.S. dairy farmers is used to produce ice cream, contributing significantly to the economic well-being of the nation's dairy industry.
The Greater Lansing area is full of awesome places to celebrate this Month and Day of ice cream, so make the tour and celebrate to the fullest! Here are a few to be sure and try out!
The MSU Dairy Store - Kids of all ages will have a difficult time choosing among 32 flavors of ice cream and soda fountain favorites. A variety of award-winning cheeses are also available. Be sure to visit the observation deck overlooking the processing facilities to see fresh ice cream being made! This is a Spartan classic - pure and simple. Try the flavors of the Big Ten!
Cold Stone Creamery - This is the ultimate ice cream experience. Made to order and too good to turn down.
Dairy Queen - Enjoy DQ Royal Treats, Blizzards, shakes or malts, soft serve ice cream, cakes and Blizzard Cakes for all occasions. Also, refreshing Orange Julius drinks, premium fruit smoothies and more.