Are you ready for a celebration of music, dance, and culture from across America and around the world? The Michigan State University Museum and the community of East Lansing proudly presents the Great Lakes Folk Festival in downtown East Lansing, Michigan on August 7-9, 2015!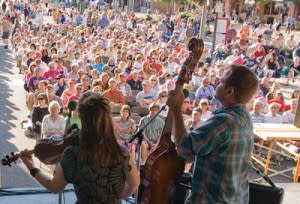 The award-winning Great Lakes Folk Festival, produced by the MSU Museum's Michigan Traditional Arts Program, is a celebration of the best parts of humanity, and everyone is invited. The MSU Museum works year-round to develop this festival program that reflects the immense variety and vitality of art, skill, knowledge, and wisdom of our cultural heritage for the public. GLFF offers a one-of-a-kind mix of music and dance stages, demonstrations of traditional arts and storytelling, authentic ethnic food, an arts marketplace, and many special activities for kids and their companions.
One of my favorite things about this event is how it encourages cross-cultural understanding of our diverse society through the presentation of musicians, dancers, cooks, storytellers, and craftspeople whose traditions are rooted in their communities. This truly unique combination makes for one of the best festivals in Michigan.
Anyone who has attended before knows the festival showcases performers who learned their skills within distinct communities and remain rooted in those communities. Their exposure to performance skills is usually at an early age, learned firsthand (often within their own families), and what they perform is an integral part of their particular culture.
In this modern world, traditional musicians have easy access to other music styles besides their own and their music often incorporates new influences. They often perform for audiences outside their own community, including at festivals in Michigan like GLFF. But the core of what traditional musicians do continues to be the music that expresses the aesthetic and musicality of their community.
The festival includes nearly 100 musicians or dancers in groups, who perform at least twice and sometimes as many as four times over the weekend. Also featured are traditional and other food vendors, craft vendors, and many other individual artists/demonstrators. There are four performance stages (including one with a 2,400 sq. ft. dance floor), children's hands-on activities, crafts demonstrations, and Folk Festival marketplace, featuring unique handmade crafts.
I love all festivals in Michigan, especially this event. It's one Greater Lansing can't miss. Get to the Folk Fest!
Of course, the Folk Fest is just one of about 150 things you can do for fun in the Greater Lansing area. Don't believe me? Check out our full list here!