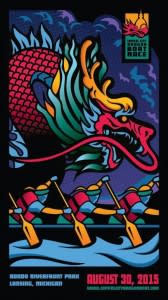 This weekend (August 29 & 30) is your chance to take the family to one of Greater Lansing's kid-friendly events by getting out to watch the beautiful exotic boats of the Capital City Dragon Boat Race on the Grand River in downtown Lansing. You can find them paddling up and down the river between the Lansing City Market and the boat dock across from Adado Riverfront Park. This is definitely a great photo opportunity and a great excuse to get out on the Lansing River Trail or enjoy the remainder of August. How about packing a picnic and spread a blanket at Riverfront Park? Another option is to hit up the patio at the Waterfront Bar and Grille at the City Market. Both places are good viewing spots for kid-friendly events like this. Saturday is practice time and time trials for the brackets. Sunday is time for the true races. Thats probably the best day for viewing, although youll see them paddling their hearts out on both days. No matter the weather.
Believe me. Both well-seasoned athletes and weekend warriors find the task of heavy duty power paddling absolutely exhausting and, at the same time, exhilarating during the heats of Dragon Boat racing. I was a paddler in the first and second year with our companys team Star Oars. Uh huh. We thought it was pretty clever too. Anyway, it was much fun and physically tiring. This is the Dragon Boats fifth year in Lansing, and it looks like they have close to 15 teams this year which is awesome. Proceeds go to the Womens Center of Greater Lansing. If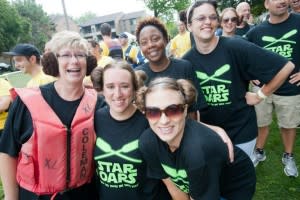 you love what you see, then next year you can either join an established team who needs members, get a team together, or if youre not feeling that paddling is quite up your alley, volunteer!!!
So lets get out there, see something a little different, and cheer on the paddlers. You might just awaken YOUR inner dragon. Follow our blog to learn about other kid-friendly events in Michigan.