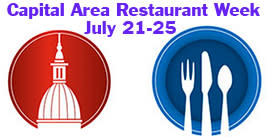 Who doesn't love to go out to eat? You get home from work, it's hot out, you've been running around all day and for once you would like someone to run around and serve you. But its more than just the service, there is something always better about eating a meal that you didnt have to prepare and won't have to clean up. Am I right? Take advantage of this great first time event and, even better, try something new at the 1st Annual Capital Area Restaurant Week, going on right now through July 25th! During this fun and unique experience participants get a chance to enjoy the best in local cuisine with three course specialized dinner menus from some of the Capital Areas finest restaurants. Dont miss this opportunity to discover new restaurants and enjoy favorites at a fantastic price and then share the word to all your friends through social media. There is even a great cause involved! No matter what restaurant you choose 10% of all proceeds go to the Greater Lansing Food Bank. Peak dining times will book quickly during this one week gastronomic event. Make your reservations early to be guaranteed a spot at participating restaurants.
How does the event work?
1 - Choose a restaurant Experience the best in local cuisine from nearly 30 of the Capital Areas most outstanding restaurants. Its a great way to try something new, so break your rut and be bold!
2 - Make a reservation Pick a day (or several!) July 21-25, 2013. Contact each participating restaurant and tell them you'd like to come for restaurant week.
3 - Special menu When you arrive at the restaurant, ask for the special Restaurant Week menu. You will enjoy a three-course meal for $25 per person or $25 per couple (depending on the restaurant). Preview each restaurant's menu on the website, www.capitalarearestaurantweek.com.
4 - Share Your Experience After you participate, go to our Facebook page to talk about your experience. How was the food? Tell every one of your twitter fans, tag your tweets & Instagram pics and more!