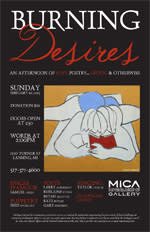 A love affair is a funny thing. Just when you think that it cant get any better, Bam! it does. And just when I think my love for Old Town Lansing has reached its peak, I remember another thing, another facet that makes me love it even more. Found amongst the galleries, the boutiques, the quaint eateries and quirky diversity of this tiny pocket of Lansing called Old Town, you can find a Sunday afternoon in February filled with love poetry. Burning Desires is just that - an afternoon of love poems, erotic and otherwise. Bring a date, your partner, your love, your best friend or come alone and immerse yourself in the profound world of poetry. From the spoken word to the lovely singing voice of Lansings Taylor Taylor, you will find that Old Town delivers once again. Like a love song. As always, its a delight. I should know better to just expect the unexpected from one of my favorite corners of the world. It's the perfect Valentine.
Find Burning Desires at the MICA Gallery at 1210 Turner St. on Sunday, February 10th.
Doors open at 1:30 p.m.
Words begin at 2 p.m.
Donation: $10