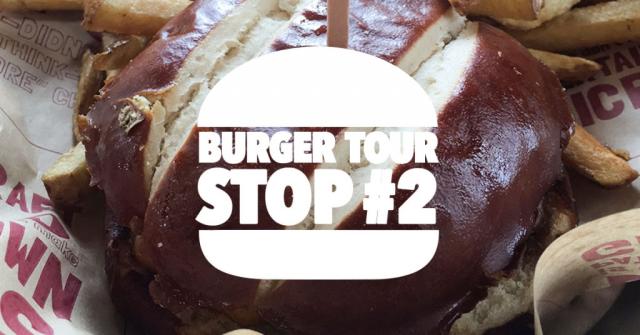 Mention the word burger and I'm in. There is nothing like a good char-broiled juicy burger to satisfy my hunger. Make mine medium so that the center is pink. I give extra points when it drips down my wrists. If I don't get messy, the burger probably wasn't that good. I like everything from a simple cheeseburger deluxe to an olive burger or a fancy pants obi-wan-kobe-waygu-go-for-the-gold-patty-with-some-crazy-stinky-cheese-crumbles-on-top burger.
And I KNOW that the Lansing area can fulfill the need of every burger lover…or so I understand. Come along with me on my burger journey as I discover things to do in Lansing and places to go to satisfy the meatiest of cravings.
Bagger Dave's Burger Tavern
It was in the midst of a snowstorm that we decided to hit up Bagger Dave's On Grand River Avenue in East Lansing. One of the best things to do in Lansing after being out in the snow is sit down at a local restaurant and order a juicy burger. It was just the ticket to warm up. We were the intrepid threesome and the burgers were calling. You almost have to have a good burger if you have 'burger' in your name, so Bagger Dave's Burger Tavern it was.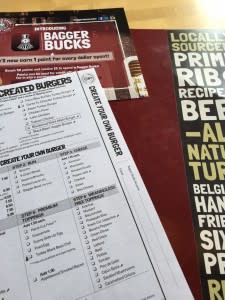 You can create your own burger!
I ordered (at the recommendation of a very delightful server) Caleb's Crispy Cheese Bacon Burger. Applewood smoked bacon, crisped cheddar, and parmesan cheese on top, plus fixin's, all on a grilled sesame seed brioche bun. Two thumbs up and two juicy drippages down my hands for this burger. I opted for the sweet potato chips and didn't think to offer to share with anyone until I looked down and realized that I ate them all. (Shrug) They were so delicious, helping make a visit to Bagger Dave's one of the top things to do in Lansing. My co-worker Matt ordered the Southwestern Chicken Dip appetizer as a meal. It was not only filling but the black bean salsa and the tortilla chips were super fresh and the salsa had some good spiciness. Tracy built her own version of a burger…just the way she likes it. Win, win, win.
I'm going back to try the Train Wreck burger, which may be their signature burger because they have this awesome train track around the inside perimeter of the restaurant. That burger has a sunny side up egg on top plus caramelized onions, sautéed mushrooms, and some thousand island sauce all up on there. I always say if my plans involve going back, then the restaurant is a winner. Also, the plan will have to include beer. For beer lovers, a stop at Bagger Dave's to try new brews tops the list of things to do in Lansing. Why, oh, why do I have so many lunches out and dinners in??? Or maybe I need to find a job where it's acceptable to be day drinking. Not going to happen. Note: They do craft their own pop which is pretty darned good. So there's that. Plus Bagger Dave's beer selections are on the money. Even better? They have Michigan-sourced food and beer. I saw a ton of Michigan beers listed. Atwater, Bells, Shorts, etc. So I suggest you head on over. This place is good.
I'm only on my second burger joint. Up next? I don't know. What do you think? I'm open to suggestions. Come on. Where was the last place you had a great burger? Help me create the best possible burger tour—with your input, this tour could become one of the most popular things to do in Lansing.
Check out Stop #1 Lansing Brewing Company.
Did you know that Greater Lansing offers over 150 things to do? With only 48 hours in a weekend, the clock is ticking. Download the LAN150 Bucket List to get started.