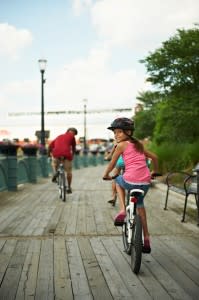 This time of the year is perfect for a bike ride. If its a bit chilly, the cycling warms you up. If youre a tad warm, the breeze cools you off. Greater Lansing offers a number of trail options. From the Northern Tier Trail in East Lansing to the thirteen mile long Lansing River Trail and more, you can opt to see the area from two wheels and get a whole different view and perspective of the Lansing area.
For the Lansing River Trail I suggest starting at the northern point in Old Town. Park your car in the city lot at Turner-Dodge House and head south from there. You can stop along the way at various points of interest like the Brenke Fish Ladder, then make your way to the Lansing City Market. Stop in for a pastry, a drink or you could even pick up a picnic lunch for a little later. By then, youve hit the downtown Lansing portion and youll pass by Impression 5 Science Center and the R. E. Olds Transportation Museum. Take note of the Planet Walk there. Its a two mile journey along the trail from the Sun at Impression 5 and winds along the River Trail and ends up near Potter Park Zoo with the planet Pluto. At one point you can carry on south or head east toward Michigan State University. There, you will find miles and miles of campus roads.
The southernmost part of the trail ends at Jolly Road at MacGuire Park. From there its a quick trip to Lansings Cottonwood Campground which might just be a nice option when youre visiting.
So dont forget to bring your bike when you come to visit. Weve got some great trails for you to explore. And if you need to rent a bike, well, weve got you covered there, too. Try the MSU Bikes Service on campus right along the trail. They are also available to you if you need bike repair or just some air for your tires. Theres also Spin Bicycle Shop in Old Town and Riverfront Cycle near the City Market on Shiawassee St.
Weve got a great magazine we would be happy to send to you; Michigan Trails Magazine lists the major non-motorized, multi-use trails throughout the state complete with editorial and great trail maps of the routes. Visit www.trailsmichigan.com for the online version.