Anyone who knows anything about Greater Lansing knows that this THE PLACE in the STATE of MICHIGAN for fun summer festivals. In fact, around here, we call it Michigan's festival capital. We're not known for one festival, like so many others, we're known for quality and volume of warm weather, music-infused, food adornedget-togethers of all kinds. Lucky for you, a few of Greater Lansing's best summer festivals are going on this weekend. Notice I said a couple, not just one? Yes, in Greater Lansing, we prefer our fun in bunches.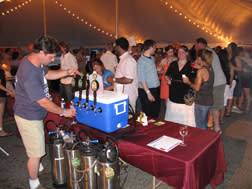 Starting this Friday June 22nd festival-lovers will enjoy the Summer Solstice Jazz Festival going on in East Lansing. This two-day (yep, going on Saturday too) jazz-infused fest is in the heart of downtown East Lansing with a high caliber line-up of local and national jazz performers. For jazz fans (or just those that just like to chill, have a beverage and chat with friends) this is a must-see/hear. But remember, this isn't any town; you're doing summer festivals in Greater Lansing, which means you've always got more to do. While jazz is heating up at the campus of Michigan State University there is another great two-day festival going on in Greater Lansing's arts and culture hub, Old Town Lansing. Friday June 22nd is the Festival of the Moon and the next day is the Festival of the Sun!
The Festival of the Moon takes the shortest night of the year (Vernal Equinox - Google it) and turns it into one big big party. Plenty of cold craft brews and awesome regional and national bands mix for a super good time had by all. While you're there, view pieces of art made from recycled materials created during the recent "Scrap-Fest" competition. Did I tell you we have a festival for everything, or what?
The next day, June 23rd is the Festival of the Sun. This great event celebrates the summer solstice with more beer, fine wine, gourmet foods and live music on two stages. Two days, essentially 4 festivals, food, drink, friends, music and sunny days and moonlight summer nights. Does it get any better? Before you answer, check the Calendar of Lansing Events. We've only got about 40 more festivals left in 2012...