Frequently I get the question of what not to miss on a visit to Greater Lansing. Its difficult to whittle it down because theres just so much to see and do and experience in the capital region. But Ive compiled a list that I feel hits up not only some interesting museums, but also includes a bit of outdoors, a bit of shopping and some great dining spots. So here goes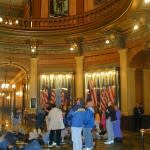 1. The State Capitol Building Well, since Lansing IS Michigans capital, this was a no-brainer. But the Capitol is also a very cool example of a restoration gone right. This building is a national treasure and Im not exaggerating. There are over nine acres of hand painted surfaces that have been painstakingly restored and a beautiful rotunda to behold. Open Mon.-Fri. 9 a.m.-4 p.m. Take the tour, I guarantee that youll be amazed. 2. Michigan Historical Museum/Library of Michigan/State Archives Step back and experience the history of Michigan. Walk through a copper mine, visit a lumber barons home, a one-room schoolhouse or an old-fashioned auto assembly line. The quality of the exhibits is superb. Then visit the state library and archives and research your family tree. Its one of the top 10 genealogical research venues in the country.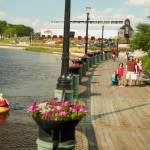 3. Lansing River Trail Over 13 miles of paved trail along the Grand and Red Cedar Rivers. This trail takes you from Old Town Lansing in the north to Michigan State University campus winding through urban areas, parks, woods, wetlands and more. (Bring your bike or running shoes!) 4. Impression 5 Science Center This hands-on childrens science center features a Bubble Room aptly named Pop, a First Impression Room for the toddlers, a Build Zone complete with construction vests and hard hats, an area called MI Nature to explore the wild side with large aquariums and naturalist gear to dress in. Its fun and engages the whole family. 5. R. E. Olds Transportation Museum Ransom Eli Olds, founder of Oldsmobile built the first moving assembly line (that Henry Ford then perfected.) Find a wonderful tribute to the man and the automobiles that Lansing built. Find classic and antique Oldsmobiles, REOs, engines and more. 6. Downtown Lansing (Washington Square) Hit downtown Lansings main street lined with eateries, nightclubs and bustling with government workers, office workers, residents and students. Thomas M. Cooley Law School, Davenport University and Lansing Community College are all located in downtown Lansing. 7. Old Town Lansing This intersection of Grand River Ave. and Turner St. on the north side of Lansing was the original commercial district before Lansing was designated to become the state capital. This district has undergone a bit of a renaissance and is now the hub of arts and culture. Cute boutiques, funky shops and art galleries and antiquing opportunities abound. 8. Eastwood Towne Center An expanding urban lifestyle center with upscale retailers such as Ann Taylor, Pottery Barn, Williams Sonoma, White House Black Market and eateries such as P.F. Changs, Bravo! Cucina and Mitchells Fish Market. 9. Restaurants Weve got a great variety and something for everyone from familiar chains to farm to table and family owned and operated. Heres a few of my favorites.
10. Michigan State University Go Green! Go White! Go Spartans! MSU has a lot of places for visitors to explore on campus, from the Smithsonian affiliated MSU Museum, Wharton Center for Performing Arts, Beaumont Tower, the MSU Union, Abrams Planetarium, to the (soon to be open) Broad Art Museum. So there you have it. A top ten of what not to miss when you visit. And theres plenty more where that came from. We can also mail you a GreaterLansing Visitor Guide.Or you can download it to your iPad. You can also download our free app to your smart phone.
Come spend a day or two or three and discover what makes Greater Lansing so special!