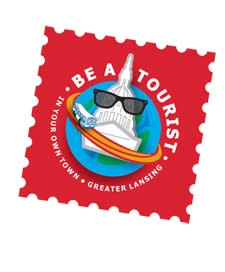 As I have been shouting about for the last couple of weeks a really fun event is coming up this June 1st, it's of course the 19th Annual Be A Tourist In Your Own Town. On this day folks get to explore over 70 fun local attractions and hot spots for just the cost of their Greater Lansing Passport, which is affordably priced at one dollar. Then as always, the other part of that good deal is the transportation, covered by our longtime partner CATA, for just 50 cents. It's an awesome deal, and a great way to have a lot of fun for a super low price - and hopefully you'll find something new in the area that you like which you can return to, tell friends about and more.
Now while the 50 cent transportation from CATA is an incredible deal and a big part of the event, there are quite a few attractions and hot spots that are off the beaten path, and are not on the special Be A Tourist CATA routes that you must explore with your own transportation. I want to take this opportunity to HIGHLY recommend these awesome Be A Tourist spots that are located along the road less traveled, woven into Greater Lansing's surrounding communities. Get off the bus and explore these Greater Lansing goodies - you'll be glad you did!
Off the beaten path is where you'll find these awesome local gems!
Archives Book Shop - Awesome old books are fun to explore Art Alley - When was the last time you were in REO town? Burchfield Park, Holt - Can you say pedal boat rental?! Burgdorf's Winery - Stop WHINING and start WINE-ING. Try the Blueberry wine! EagleMonk Pub & Brewery - More delightful tasting! EDRU Skate-A-Rama - Bust our your satin jacket and wait for the "snowball" Greater Lansing Potters Guild - Grab some clay and "scwoosh it" into something beautiful Kathy's Pier Delight - Ice cream was invented for days like this! MSU Demmer Center - Try your aim at all kinds of targets, with all kinds of weaponry. Lansing Model Railroad Club - Imagine - a tiny little society for you to survey and control! Lake Lansing Sailing Club - Hey, Christopher Cross was right. Sailing takes you away...