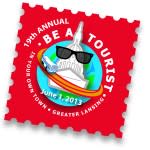 There are multiple ways to tackle Be A Tourist In Your Own Town each year. Sometimes its best to just hit up your favorite places. Sometimes it might be best to hit the one-day-only tours just in case they might not be available for some reason the next year. Another idea is to hit the places that charge admission. Heck, a one dollar admission to Impression 5 Science Center or Potter Park Zoo is an unbelievable deal. Or how about doing the places that are not located on any of the bus routes? The Road Less Traveled as Brendan blogged about. Another way to go is to pick a bus route, one of the four bus routes designated for Be A Tourist that day and explore that way.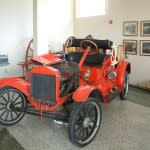 Ive chosen the RED ROUTE to talk about today. The Red Route serves the downtown Lansing area. With ten designated stops and 23 attractions to find along the way, this could take up your whole day. Frankly a visit to the State Capitol and the Michigan Historical Museum themselves can take up more than a whole day for me, but even if you stick to the out of the ordinary spots, its still going to be a stretch. Stop at the Greater Lansing Sports Hall of Fame in the halls of the Lansing Center. There will be docents there to tell you about all the sports legends and teams that have come from the area. Stop by the Lansing Fire Station. Did you know they have some very cool historical photos and such in there? Think of it as a mini-museum. And who doesnt love a fireman? Or a firehouse? Its just cool stuff. Stop in at the LCC WLNZ radio station and get the chance to practice your dj skills. And then dont miss getting off the bus at the General Motors Ride & Drive at the Lansing Grand River plant. Test drive a new car. (For a true time warp feeling, dont forget to stop by the R. E. Olds Transportation Museum to take a ride in a vintage vehicle.)Finish up the bus ride with a behind the scenes tour of Cooley Law School Stadium, home of the Lansing Lugnuts. And these are just a handful of the attractions along the Red Route. Ive listed the full line-up below.
Red Route Attractions include:
Lansing Lugnuts/Cooley Law School Stadium
Greater Lansing Sports Hall of Fame
La Fille Gallery
Impression 5 Science Center
R. E. Olds Transportation Center
Sculptures In the Park
Remembrance Memorial
Lansing Fire Station
LCC Radio WLNZ
LCC Shigematsu Garden
State Capitol Building
Downtown Lansing-visit the shops, eat your lunch here.
Lansing Art Gallery
Reutter Park
The Book Burrow
CADL, downtown Lansing Library
Michigan Historical Museum
Vietnam Veterans Memorial
General Motors-Lansing Grand River
Michigan Womens Historical Center and Hall of Fame
Cooley Gardens
REACH Studios Cirque DArt
CATA Transportation Center
For more information about Be A Tourist In Your Own Town visit www.lansing.org/batyot.
Be A Tourist In Your Own Town, Saturday, June 1st. 10 a.m.-5 p.m.
**Please note that attraction times may vary. Although the event runs 10 a.m.-5 p.m., some attractions are only able to be open certain hours.