Lansing's Attractions in Disguise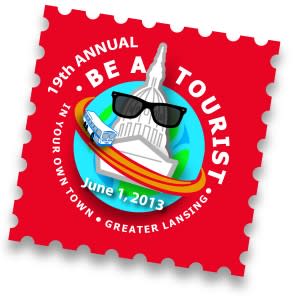 I've been blogging a lot lately about the big event coming up from 10 a.m. to 5 p.m. this Saturday, June 1st - Be A Tourist In Your Own Town. In this awesome local event area residents get to check out over 70 attractions and hot spots for just the price of your $1 Greater Lansing passport! Our long-time partner in the event CATA even covers transportation that day to most stops for just 50 cents. there are a ton of attractions and hot spots to choose from to check out that day, but I thought I'd recommend a few things in a little themed blog all about the not so obvious "attractions" participating, that are really just cool things that make Lansing work, disguised as attractions for the day of Be A Tourist. You can't go play around at all of these things every day, just on June 1st, but you better be glad these things are going on here in town, because they serve an incredibly important role. Look at this list of cool local businesses, municipalities and city-type functions playing the role of attractions and tell me they don't sound cool as heck. I'll tell you one thing, make a stop to these important local places on Be A Tourist day and you'll not only be smarter, you'll be a more valuable part of the community - I promise you that.
CATA Maintenance and Bus Facility - Come see how they fix and clean (yes, even the big 60-footers) these busses you see all over town.
Friedland industries Inc. - These guys were recycling long before it was trendy. Come turn an old hub cap into art, and learn the nitty-gritty on the local recycling process. Think you're GREEN? Prove it.
General Motors - Everyone knows we are a GM town. Shoot, when I was a kid in third grade here in Lansing, the teacher once asked us all where our parents worked. Half the class said for the State of Michigan and the other half said General Motors. How much do you know about today's GM and the amazing vehicles they are building right here in town? Come to 920 Townsend Avenue for the free GM ride and drive event. Jump into a Lansing-built GM vehicle and take it for a spin.
Lansing Board of Water & Light - Have you ever checked out the John Dye Water Conditioning Plant? Not only is it a cool old structure, it's also amazing to see all that is done to the water that serves Greater Lansing. Let's just say the journey just begins when you pour your old cup of coffee down the drain. Come check out the dramatic conclusion!
Lansing Fire Station #41 - This is a working Fire House, full of heroic first-responders and lots of cool downtown Lansing history as well. These are great guys - be glad they are here to serve this community. Stop by and tell them thanks.
State Capitol Building - A lot of important business goes down here, but its also a place of amazing architectural and historical beauty. Come get a tour of this awesome state facility, I promise you'll learn something new.