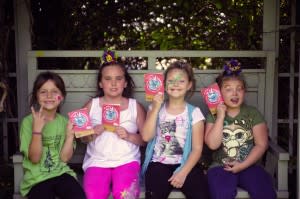 Looking for yet another reason you should open up your calendar to allow for participation in the 21st annual Be A Tourist In Your Own Town? Okay, I've got it. How about the abundance of Arts and History attractions open to you that day for just the cost of your $1 passport?! For crying out loud, transportation is even covered for just 50 cents, so you dont even have to worry about driving. Just sit back and, well, Be A Tourist! That's right. On the very roads you comb each day going to and from work, or maybe to the store or to the gas station, but today, look at the places BETWEEN your normal stops, and try to discover what you've been missing!
BE A TOURIST ARTS AND HISTORY ATTRACTIONS!
AA Creative Corridor - The AA Creative Corridor in REO Town gives you the chance to do art and then get a chance to have it hang in a gallery for the month of June.
Absolute Gallery - this old Town gallery offers great art to view and a cool project kids can do.
Arts Council of Greater Lansing - Its the arts council 50th anniversary! Get out and spot the 50 public outdoor sculptures around town.
Board of Water and Light John Dye Water Plant - Have you ever toured this awesome Art Deco structure? Its super cool.
Eaton County Museum at Courthouse Square - See the new Hands on History display and enjoy some interactive learning. Stay for an additional 10,000 square feet of historical displays!
Greater Lansing Potters Guild - Observe hand-built and wheel-thrown pottery demonstrations then take a shot at your own clay structure.
Historical Society of Greater Lansing - Check out the new "Lansing goes to War" exhibit including artifacts from the Civil War through Desert Storm.
Eli and Edythe Broad Art Museum - See the current exhibits, make some of your own art and just step back and check out this amazing building.
MSU Museum - Three floors and 15 galleries of exhibit space. Its a total "see it to believe it" type of place.
Lansing Art Gallery - Enjoy outdoor Pop-Up Public Art and Yarn-Bombing in downtown Lansing. Visit the gallery of Michigan made art and do the scavenger hunt.
LCC Downtown Sculpture Walk - LCC is filling downtown with cool outdoor art. Come check it out!
MICA Gallery - Come see local artists work and then make some art of your own.
Michigan Historical Museum - Celebrate 40 years of Lansing Fire EMS! Discover what it takes to be an EMS and explore the vehicles and tools of the trade.
Michigan Women's Historical Center - Take a scavenger hunt through the museum and see the new exhibit: "NUWARINE: Women Proud to Serve."
Mt. Hope Cemetery - This is a cool place to see lots of Lansing History!
RE Olds Transportation Museum - This collection of cars and memorabilia is a tribute to the auto industry and specifically Oldsmobile. You don't get more LANSING than that.
Reach studio art Center - GET MESSY IN THE splatter tent. SEE CLAY POTTERY DEMONSTRATIONS, EXPERIENCE COMMUNITY ART AND VISIT THE NEW YOUTH ART GALLERY.
Remembrance Memorial - This memorial is a 10 foot H-Beam pulled from the wreckage of the World Trade Center.
The Runway - The Knapp's Building is classic Lansing. Come see how its being used now by some of Lansing's most creative.
Saper Galleries and Custom Framing - See 1,500 works of art by 150 artists from 15 different countries. See original art from Rembrandt to Seuss!
State Capitol Building - This structure makes our community special, and its special. Something cool, starting THIS Saturday (May 30) the Capitol will be open every Saturday for regular tours for the first time in a dozen years.
Turner dodge house - Come see where history comes alive! Guided tours of this classic structure and a chance to make art.
Vietnam Veterans Monument - this monument honors the more than 400,000 Michigan citizens who served in Vietnam.