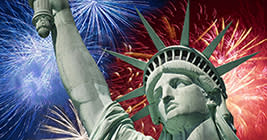 The Fourth of July, or Independence Day, is such an incredibly cool holiday. Special only to us Yankees in the United States we celebrate a day that honors our country's founders and the hundreds of thousands before us that fought to live in a country that is free. For us Americans in the year 2014 that means a summer day with fresh mowed grass, bare-feet, brats and burgers on the grill, a cold beer or a soda pop, a handful of chips, a game of catch, or a swim in the lake. We are so incredibly lucky and the 4th is a day to count those blessings with family and friends. Naturally a 4th of July tradition is a stirring fireworks display. Where will you gather to catch "the rockets red glare"? Well, if you'll be in or near the Greater Lansing area we at the Greater Lansing Convention and Visitors Bureau have put together a special website showing all the places around the tri-county area that you can catch awesome fireworks action and a whole lot more. How much more? What exactly? How about parades, baseball games, fun in our area parks and natural areas, live music and pools, ponds and lakes to cool off.
Be proud to be an American every day, but on the 4th of July, bring your patriotic A-game. Think hot dogs, Mom's potato salad, a game of Frisbee, a ride on the boat, the radio blasting Bruce Springsteen, a friendly game of badminton in the yard, and then soaking your ankle in ice afterwards. Ahhh. Who can ask for more? Alright maybe a little fishing, a nap in the hammock and then snuggling with your significant other as you watch fireworks light up the summer night. Now we're dancing around the notion of a perfect day. Are you up for the challenge?
You're living in the United States in an incredible time to be alive and free. Now go honor America - the Beautiful!