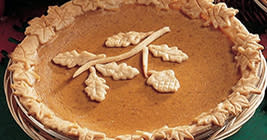 It's getting to be that time of year again when the chill in the air has families turning indoors for outings and shunning summer picnics and grilling for the comfort of the fireside and an abundant and piping hot meal around the family dinner table. People are turning to their crock pots for meals that are hot and ready to eat when we get home from work and the evenings of sunshine until almost 9 p.m. are long gone. It's sad in a way, but I look at it like we're trading one good thing for another.
We're heading into winter and the holiday season. A season that has us wanting to eat more, sleep more and we tend to forgive ourselves for grabbing a few extra cookies after dinner. Have to keep up your strength for winter? Right? Need your winter layer of fat, you say, and adding those few extra pounds can be a very delicious journey. The time for all this is coming up faster than you think! In fact, Thanksgiving is just a few weeks away at this point.
Yup, whether you're hosting the big day or heading over the river and through the woods to Grandmothers house, there is a good chance you've got your heart set on eating, or serving, some awesome desserts this season. From classic pumpkin pie to decadent cupcakes the size of softballs there are fantastic bakeries in the Greater Lansing area that have fantastic sweet offerings perfect for your holiday table. Whether you want to go to an old Lansing classic like Bake N' Cakes or Roma Bakery or something hot and trendy like Sweetie-licious Bakery or Sugar Shack, you had better get a move on with your order! These local bakeries get incredibly busy this time of year, so the time is now to get your order in. I mean it, call them right after you read this! Dont wait until the last minute and end up with your face and clothes covered in flour looking down at your latest Pinterest FAIL.
Fall and winter are awesome time for desserts. This year, be smart and place your order with one of the incredible bakeries in the Greater Lansing area and have a dessert that will have everyone drooling. And sure, if it makes you feel good or earns you some much-needed points, tell your Mother-in-Law you made it.