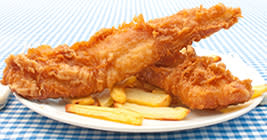 There is something so rock solid about a big piece (or two… or more) of fresh fried fish, tartar sauce and a side of hot, salty French fries. No, maybe you don't want it every day, but there are times, for me anyway, that literally nothing sounds better. It's cozy comfort food that is fresh, satisfying and pleasingly filling. I especially get thinking about fish this time of year as I'm a proud alum of St. Casimir Catholic Middle School in Lansing and this time of year always meant Lent (For Catholics that's the 40 days leading up to Easter Sunday) which meant no meat on Fridays. St Casimir always had (and still does) an awesome fish fry on Friday evenings during Lent and back when I was a student there, in our infinite 13-year-old wisdom, we would always stick around after school, go to the fish fry, eat about 20 perch, 40 smelt, a bucket of fries and then report directly…to basketball practice. It seemed like a good idea at the time – that is until we'd be running laps and start feeling the fish flopping around in our stomachs. Oh well, we were young and we couldn't resist the awesome smell of salty fried fish and fries and slaw. I still feel the same way. This time of year has me seeking out fish fry opportunities throughout the region, and let me tell you, there are many. Like literally dozens. In fact, it's a way to support your local American Legion, VFW or community church. Seek out what's near you and find yourself doing something good for the community and for your belly.
If you're hurting for an awesome fish dinner and it's not Friday, don't fret, the Greater Lansing area has a whole bunch of places that offer seafood fare every day of the week. I'm talking about everything from fancy stuff like Lobster, Crab and Scallops to the good old fried fish (Perch, Cod, what have you), fries and a cold beer (Ideally Irish) we've been talking about. These are the top places in town to get your seafood fix in my opinion – that is if you can't find a way to make it over to St. Casimir and the fish fry I grew up on. Go Eagles!
An authentic Irish pub with the warmth and "craic" of the Isle itself, featuring a great menu with all the Irish favorites, a beautiful bar with premium draft beers and the most extensive Irish whiskey list in Lansing. Home of the Guinness "Perfect Pour." Daily happy hour. Seasonal outdoor dining. fish here, fish and chips is excellent. They have a BOGO fish and chips special on Monday. Good stuff.
The Dublin Square Irish Pub was born in 2006 with the intention of bringing a small piece of Ireland to an area that already abounds with culture. The entire interior of the Pub, including the massive hand carved mahogany bar, was built in Dublin, then shipped and re-assembled in East Lansing by the same craftsmen that built her. At the Dublin Square Irish Pub, we celebrate the Craic… the essence and spirit of intimate surroundings… a place with no worries, great food, great drinks and conversation with close friends. Game Room and casual Pub compliment the non-smoking restaurant. Catering, banquet space available. Fried fish here is very good!
A steak and seafood restaurant and bar featuring a wide variety of fresh fish from all coasts. The menu offers one of the largest selections of seafood specialties in the Lansing region, with various tempting menu choices. Located in Eastwood Towne Center. this is upscale, fresh fish flown in daily, top shelf. Bring someone special with you, this is top-notch dining.
This nationally known seafood restaurant specializes in delicious seafood in a family friendly atmosphere. It's located in the Frandor shopping center and has been a Lansing staple for a long time. I walk in the door and I immediately start longing for shrimp scampi…like a wheel barrow full of it.