This post was submitted by guest blogger Nate Reens.
I'm a sucker for big, brawny stouts. And coffee. And chocolate. Give me one of the three, I'm a happy camper. Get me two in a brew, I'll salute you. Combine all three, I'll worship the ground on which the brewers walk. 
That's what makes it easy to make the rounds around Lansing, where creative craft beer, soon-to-be legendary liquors and winsome wines are making their mark as part of the Makers & Shakers beer, wine and spirits trail. 
The thirsty tour around Greater Lansing has grown to 17 stops in just a matter of a few years. The taps, outside of a few mainstays at each brewery, are liable to rotate seasonally, just as the distillers are dedicating time to try new cocktail recipes.  
The next time you decide to go for a leave of libation, keep these stops in mind: 
Ellison Brewery and Spirits 
A gritty drive into an aging industrial park may lead you to think that Google maps has gotten a bit wonky while sampling brews and booze along the Makers & Shakers trail. 
Fear not, you'll be rewarded as Ellison Brewery and Spirits delivers once you reach a converted warehouse space at 4903 Dawn Avenue, where the obligatory brewer beards are rivaled only by bold beers. 
During a Saturday fall visit, there were two people inside Ellison's cozy taproom just after a noon opening that coincided with a Michigan State home football game. With a depressing season underway, and that day's game unraveling quickly, Ellison eased the punch with its Ransom Coffee stout, a Tiramisu stout and the Spartan stout.  
You read the introduction, right? Stouts are kind of my thing and each of Ellison's brews had different levels of complexity.  
The brewery's regional reach has expanded with the notoriety of its double IPA You Can Get That with Juice often cited as among the best of Michigan-made styles. High school friends who formed and opened Ellison in 2015 have a well-rounded menu of handles that will please the die-hard craft enthusiast and those only tagging along. 
The spirit production and wine-making end of the business is still ramping up. 
Red Cedar Spirits 
It's actually pretty interesting to go behind the scenes at Red Cedar Spirits and see the assortment of copper stills, including some that tower 30 feet up through the roof. From a bin of corn kernels to a row of finished liquor bottles, the distillation process somehow transforms raw agricultural produce into 80-proof hooch.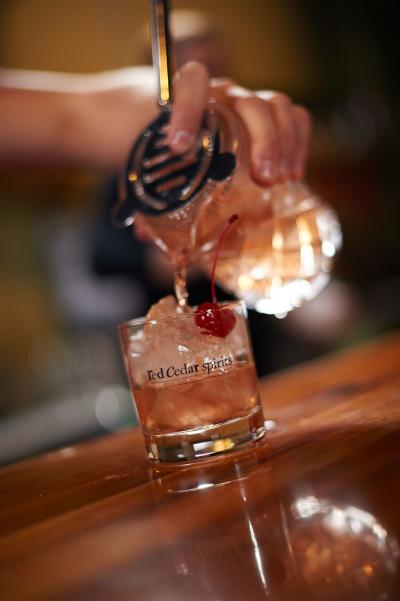 I never really thought about how liquor gets made. And if you don't care so much about the process, it's a perfectly good time just to sit in the tasting room and sip cherry brandy or any number of Red Cedar Spirits cocktails, like the "Thyme Collins," a gin and brandy concoction.  
But the distillery at 2000 Merritt Road in East Lansing gives tours, which are definitely an educational way to pass the time between drinks.  
Though there's a growing number of artisan distilleries across Michigan, none are more authoritative than Red Cedar Spirits. One of the distillery's owners, Kris Berglund, is a chemical engineering professor at Michigan State University who started a craft distilling program back in the 1990s. He wrote the book on artisan distilling – literally, a 102-page guide for small distillers. Berglund traveled with some Michigan winery operators to check out a few German brandy distilleries, called schnapps. Inspired, they brought home four copper stills that launched the state's artisan liquor business.   
Out of that backdrop evolved Red Cedar Spirits, which makes grain-to-bottle (or fruit-to-bottle) liquor including gin, vodka, whiskey, bourbon and brandy. The distillery operates out of the historic former East Lansing municipal public works building alongside a sibling venture that makes bio-based personal care products. As you'll learn on a tour, the distillation process for nail polish removers and booze isn't much different – but the racks of wooden liquor barrels look pretty cool.  
Lansing Brewing Company 
The Capital City beer scene trails only auto production as the trade of champions in mid-Michigan, where the reincarnated Lansing Brewing Company has extended downtown's footprint beyond Cooley Law School Stadium and the Lansing City Market.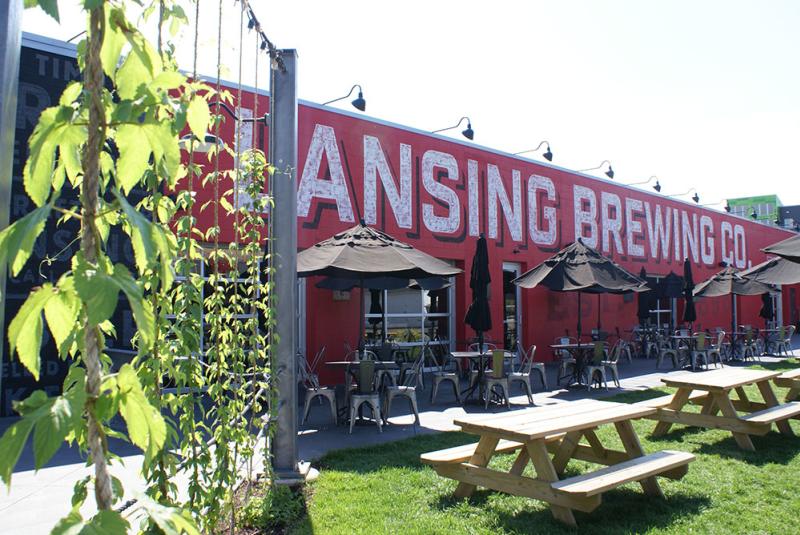 The light and airy space, which opened at 518 E. Shiawassee Street in 2014, stands in stark contrast to Ellison's ethos, but the beer list and the diverse food menu is bound to bring you back for multiple visits. 
A recent special release of Black Magic Stout, the bourbon barrel-aged version of the coffee and chocolate laced Dark Side Stout (you read the intro, right?), made as good a reason as any for another trip to belly up to the bar. Clocking in at 12 percent and with an added vanilla note, you'll want to get this while it lasts, but also take some time to soak it up as the ABV could cut the trail short. 
The best-in-name division go to the Bongwater Imperial Brown and the standby Angry Mayor IPA, dubbed as such after hizzoner Virg Bernero ranted in support of the bailout of the auto industry. 
At Lansing Brewing, the Bud Light drinker of the bunch can find a friend in either the Official Union golden ale or the Amber Cream Ale. 
If craft beer isn't your calling card, the Hard Nose spirits line can answer the taste buds desire for quenching. Vodka, rum, gin and whiskey are distilled on-site and form the backbone of the cocktail line that comes with strong recommendations for the Urban Storm and the Lansing Manhattan. 
Makers and Shakers Trail 
Discover more about the trail, follow it on an interactive map and learn how to travel it safely here.