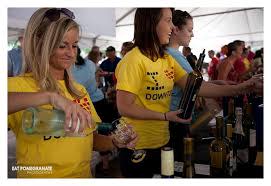 If you havent been to downtown Lansing in a while, you are in for a pleasant surprise. A few years back the downtown area was pretty quiet with only a handful of lunch spots that mainly catered to the legislative population who arrived in Lansing at 8 a.m. and left promptly at 5 p.m. Recently Washington Square has been morphing into a destination vibrant and alive till the wee hours. With the influx of Cooley Law School students, the new residential offerings and the upswing in great dining and entertainment options, downtown Lansing has come back to life. Head down Michigan Avenue to Washington Square after work and youll see happy hour crowds every night of the week, thinning out for an hour or two before the nightlife is in full swing. Lugnuts baseball adds to the popular destination as does the River Trail, the museums and the City Market.
So what better way to check it all out than attending A Taste of Downtown on Saturday, July 20th? From 3-8 p.m. sample all types of food from Asian cuisine (Anqui Sushi), Middle Eastern (Aladdins Express), French culinary favorites from P Squared and Troppo, to traditional fare like good old American pie from Grand Traverse Pie Company. Add to that over 100 different types of wine from around the world to sample (including some Michigan wines) and you should be satisfied. But wait, theres more. To keep your toes tapping and the beat bumping there will be a wide range of entertainment for you to enjoy.
Cant find a babysitter? Not to worry. There is a kids corner with face painting and balloon animals and some quick crafts to do. (I did hear a rumor that many adults were getting into the face painting last year.) Come on down. Enjoy the Plinko game. Taste the new flavors of downtown Lansing. And get ready for an afternoon filled with laughter, music, food and wine and above all a great time!
Taste of Downtown Lansing By the Numbers
1200 bottles of wine
750 in attendance in 2012
100 types of wine
80 volunteers
20 dollars admission day of event
16 downtown Lansing restaurants participating
15 dollars is the pre-sale price of admission
6 samples of wine per admission ticket (you can always purchase more beverage tickets)
5 dollar admission for children ages 3-12
4 bands
3-8 p.m.
2-4 food samples with your admission price (you can always buy more food tickets)
1 day only. You dont want to miss this.
P.S. This is a great way to kick off our Capital Area Restaurant Week, a week-long event to experience some of Greater Lansings outstanding restaurants running July 21-25!