Are you looking for an alternative to slaving away in the kitchen to prepare a Thanksgiving feast? We've discovered several Greater Lansing establishments offering meals to go. Simply pick up, reheat and eat!
Please note that the state of Michigan has released new COVID guidelines that prevent dine-in service through December 9. However take-out, delivery and outdoor dining are still available.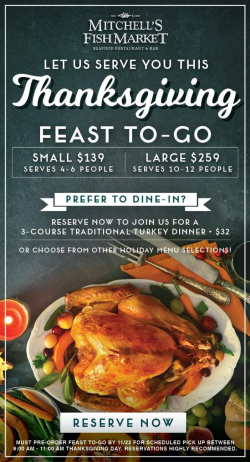 Pre-order your Thanksgiving feast to go by November 22. Choose from a small feast that feeds 4-6 people for $139 or the large feast that feeds 10-12 people for $259.  Pick up orders on Nov. 26th between 9-11 a.m.
Prefer to dine in? Mitchell's has you covered for that too! The three-course traditional Thanksgiving meal is $32 per person. Other holiday favorites available as well. Reservations strongly encouraged.
Gravity Smokehouse & BBQ is pleased to announce that they will once again be doing Thanksgiving packages this year! They were such a huge hit last year that we are expecting these to go fast this year.
Add on a turkey breast to any package for just $40. Additional sides added on to any package will be $10 each. Just want turkey breasts? Pick some up for $50 a whole breast.
Orders can be picked up before Thanksgiving or you can schedule your time to pick up the day of between 10 a.m. and 1 p.m. Orders must be pre-paid, and will be curbside pickup.
Please call the restaurant to place your orders at 517-258-4900.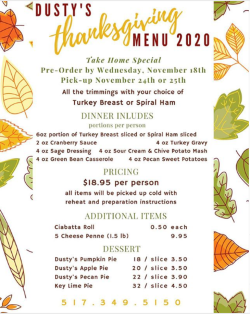 Let Dusty's take care of you this Thanksgiving with their Take Home Special! Order by November 18th for pick up before Thanksgiving. Dinner includes your choice of turkey or ham and all the sides. Price is $18.95 per person. Call (517) 349-5150 to place your order.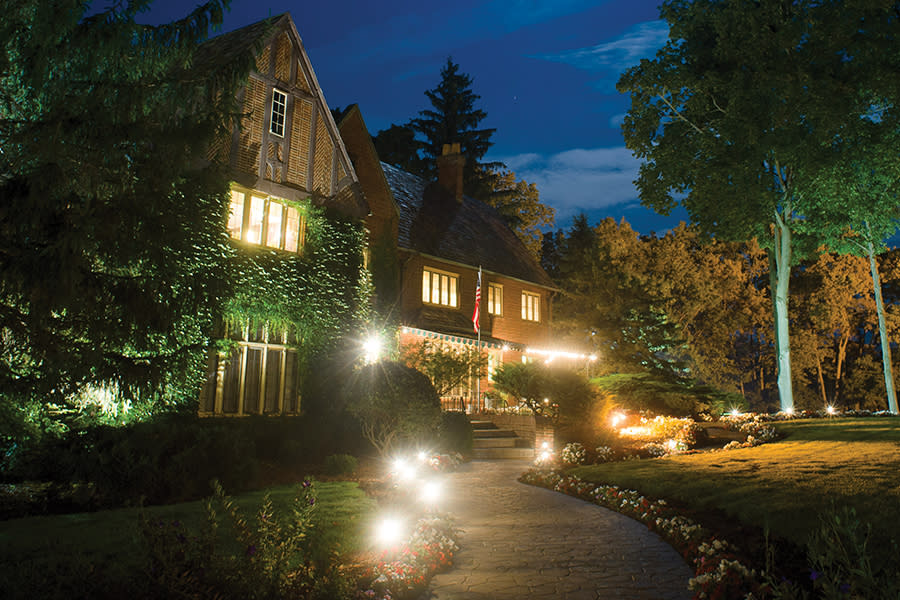 The English Inn is offering a premium curbside dinner that can be enjoyed at home with family. The dinner will be their most popular item: Prime Rib. This oven-ready meal for two will include: shrimp cocktail for two, two house salads, fresh baked rolls, whipped cinnamon butter, two baked sweet potatoes, green beans, horseradish cream sauce, au jus, Prime Rib for two and for dessert, two pieces of pumpkin pie. This will all be available for preorder at https://www.exploretock.com/theenglishinn/.

Pick up is available Tuesday (11/25) and Wednesday (11/26) and all meals are packaged and ready to be heated in your oven at 350 degrees and served when your family celebrates. Each meal for two is $80 plus tax and gratuity and you can order as many meals for two as you need to serve your family.

Though this year will be different, The English Inn can still provide a great Thanksgiving experience and they look forward to gathering in person next year!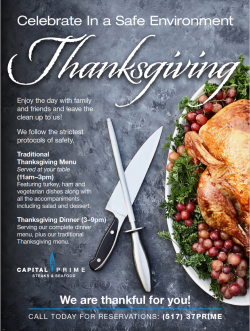 Capital Prime is hosting Thanksgiving so you don't have to do any prep or clean up! Enjoy a traditional Thanksgiving meal from 11 a.m. – 3 p.m. or savor the Holiday Thanksgiving dinner and entire menu options from 3-8 p.m.  Turkey dinner is $32 per person. Ham dinner is $35 per person. All meals include choice of salad and dessert. Reservations strongly recommended. Take-out orders available as well. All take-out orders must be placed by November 23rd.
http://capitalprimelansing.com/thanksgiving-menu/
A Thanksgiving dinner, to go! Just heat and serve your choice of hand-carved traditional or in-house smoked turkey breast or carved fresh-baked ham. Each meal includes gravy, garlic redskin mashed potatoes, herb stuffing, cranberry sauce, dinner rolls. Also includes your choice of two of the following side dishes: Hall of Fame salad, creamy coleslaw, mac and cheese, corn medley, green beans.
All orders will be accepted November 19-23. Call the Spartan Hall of Fame Cafè at 517-337-4680.
Let Bravo! take the stress out of Thanksgiving day! Preorder your Thanksgiving feast including: sliced white-meat turkey, homestyle gravy, roasted garlic mashed potatoes, spicy Italian sausage stuffing, green beans, cranberry sauce and pumpkin pie! With curbside, to-go, and delivery options available, what's not to love? Give them a call at (517) 485-3779.
Enjoy an individual or family-style meal expertly prepared by the Kellogg chefs and ready to reheat and enjoy at home this holiday! Cheese & charcuterie, roasted turkey (sliced), harvest greens, whipped potatoes, classic stuffing, green bean casserole, cranberry combo, buttered sweet corn niblets, roasted brussel sprouts, creamy macaroni & cheese, rustic dinner rolls, apple & pumpkin pies. All available for safe curbside pickup Tuesday, November 24th and Wednesday, November 25th from 1 p.m. to 6 p.m. You can pre-order online here or give them a call at (517) 432-5049.
---
GET FESTIVE AT YOUR UPCOMING HOLIDAY!
 
Their Holiday menu offers traditional dishes with a twist, like smoked turkey breast and house smoked green beans, Gouda mac & cheese, red skin mashed potatoes, collard greens, and more!
All of their vittles are available through last day of December, or while supplies last. Everything hot or cold, is packed and ready when you arrive. Give them a call at (517) 580-7202 for the full menu and order yours today! They promise not to tell anyone you didn't make it yourself!
---
Don't forget dessert!
Order in advance to have your sweet treats available for the feast!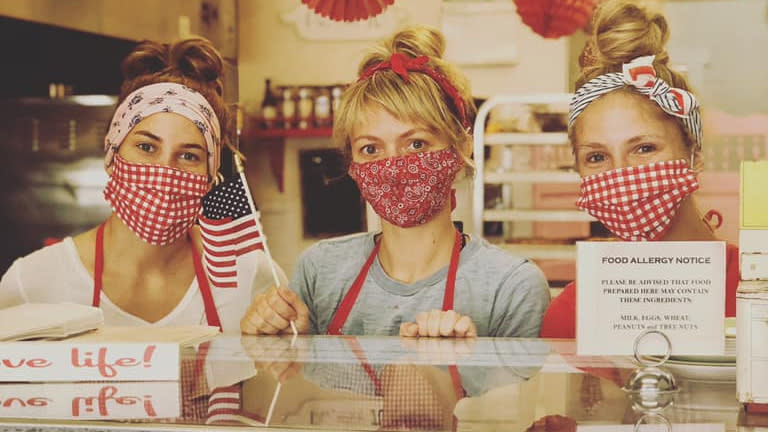 Hello, Sweeties! It's officially the opening of Pie Season! For the first time ever they are taking orders online! Online orders are for the day before Thanksgiving pickup only - if you need a pie any other day the week of Thanksgiving please call the shop. You can find the online ordering right on their website. Sweetie-licious looks forward to being a part of your traditions each and every year and cannot wait to bring a slice of comfort and joy to your 2020 holiday table!
Find the flavors of the season at Gigi's! Sample the Oh, My Gourd!, deliciously moist pumpkin spice cake frosted with a caramel buttercream, topped with caramel, homemade candied pecans, and a gingersnap! Order your cupcakes, gluten free cupcakes, cheesecake and more to be ready for pick up prior to Thanksgiving. Your family will thank you! https://gigiscupcakesusa.olo.com/menu/gigis-cupcakes-lansing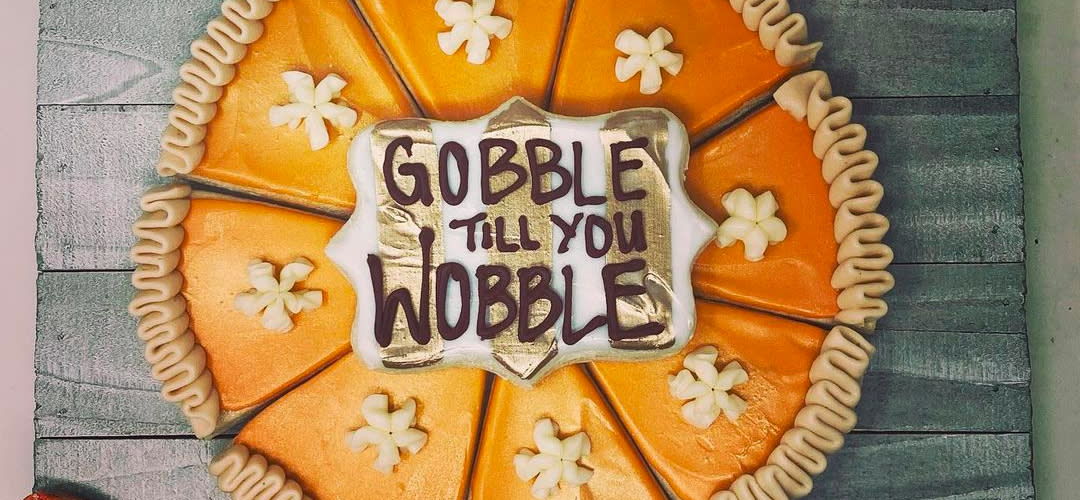 For a sweet treat that looks like Thanksgiving, check out Mitten Raised Bakery's special options for this year's turkey day! They have plenty to choose from in the bakery, but if you'd like to try your own hand, they have kits made just for the Thanksgiving holiday that are sure to delight! You can check out the wonderful options here, but be sure to order by November 23rd to receive your treats in time!
---
Baking pies that connect people and that are meant for sharing. What better way to celebrate Thanksgiving than by serving up a slice of deliciousness with your loved ones? Find flavors ranging from Old Mission Cherry pie to apple, pecan and pumpkin. Sugar-free and gluten-free options available. Taking pie orders up until Nov. 24th for pick up before Thanksgiving Day. https://shop.gtpie.com